Purchases through our links may earn us a commission.
AMD launched the A520 chipset in August 2020. The A520 replaces the A320 chipset as the entry-level choice for newer Ryzen processors (Ryzen 3000 and 5000 series). The A520 houses the AM4 CPU socket; while it is compatible with Ryzen 3000 CPUs, it won't work with Ryzen 3000 APUs – Ryzen 5 3400G, and any other 3000 series model with a G in its name. A520 chipset is severely limited compared to the B550 and X570 chipsets. If you plan on getting a Ryzen CPU and want more features, check out the rest of our motherboard buying guides. They include multiple B550 and X570 motherboard guides.
The entry-level A520 drops the PCIe 4.0 support Ryzen 3000 & 5000 CPUs provide. Instead, CPU lanes convert to PCIe 3.0. Next, the chipset comes with support for fewer high-speed USB ports compared to the B550 and X570. It also has fewer PCIe 3.0 and SATA lanes. Finally, the A520 doesn't support overclocking. On the other hand, the CPU-chipset link uses PCIe 3.0 x4 connection, the bandwidth as on the B550. As for the detailed A520 specs, its place on the market compared to B450, B550, and X570 chipsets, and CPU support, we've covered that below. But first, check out the complete A520 motherboard list.
A520 motherboard list
| wdt_ID | Manufacturer | Model | Form | DIMM | M.2 | SATAIII | PCIe x16 | PCIe x4 | PCIe x1 | SLI | CFX | Wi-Fi | RGB |
| --- | --- | --- | --- | --- | --- | --- | --- | --- | --- | --- | --- | --- | --- |
| 1 | ASRock | A520M Pro4 | mATX | 4 | 2 | 4 | 2 | 0 | 0 | No | No | No | No |
| 2 | ASRock | A520M-HDV | mATX | 2 | 1 | 4 | 1 | 0 | 1 | No | No | No | No |
| 3 | ASRock | A520M-HDVP | mATX | 2 | 1 | 4 | 1 | 0 | 2 | No | No | No | No |
| 4 | ASRock | A520M-HDVP/DASH | mATX | 2 | 1 | 4 | 1 | 0 | 2 | No | No | No | No |
| 5 | ASRock | A520M-HVS | mATX | 2 | 1 | 4 | 1 | 0 | 1 | No | No | No | No |
| 6 | ASRock | A520M-ITX/ac | mITX | 2 | 1 | 4 | 1 | 0 | 0 | No | No | Yes | No |
| 7 | ASRock | A520M/ac | mATX | 2 | 1 | 4 | 1 | 0 | 1 | No | No | Yes | No |
| 8 | ASUS | Prime A520M-A | mATX | 4 | 1 | 4 | 1 | 0 | 2 | No | No | No | No |
| 9 | ASUS | Prime A520M-E | mATX | 2 | 1 | 4 | 1 | 0 | 2 | No | No | No | No |
| 10 | ASUS | Prime A520M-K | mATX | 2 | 1 | 4 | 1 | 0 | 2 | No | No | No | No |
A520 chipset features
AM4 Socket
AMD kept the AM4 CPU socket on all consumer-grade AMD CPUs since 2016, and the A520 doesn't change that. It's yet another chipset that comes with the AM4 socket. However, not all AM4-based CPUs are compatible with the A520 chipset — more on that below.
A520 hardware specs
The A520 is an entry-level chipset, and the specs sheet confirms this. Probably the most significant cuts include removing PCIe 4.0 and overclocking support. Since the Ryzen 3000 and 5000 CPUs come with 20 PCIe 4.0 lanes, those 20 PCIe 4.0 lanes convert to PCIe 3.0 lanes on A520 motherboards. On top of that, the A520 itself comes with six PCIe 3.0 lanes, two of which can be used either as regular PCIe 3.0 (for NVMe SSD slot, for instance) or two SATA III ports. The chipset also doesn't support dual GPU setups, if anyone's interested.
16 PCIe 3.0 lanes from the CPU are for graphics, while NVMe SSDs and SATA III disks can use the rest in the following configurations:
x4 PCIe 3.0 NVMe
x2 PCIe 3.0 NVMe + 2 x SATA III
x2 PCIe 3.0 NVMe + x2 PCIe 3.0 NVMe
Six PCIe 3.0 lanes found on the chipset itself can combine in following configurations:
4x PCIe 3.0 + 2x PCIe 3.0
4x PCIe 3.0 + 2 SATA III
As you can see, with the A520, you only get PCIe 3.0 lanes, twenty-six of them in total. Sixteen lanes are for graphics, leaving ten PCIe 3.0 lanes for storage devices. The CPU includes support for up to four USB 10Gbps ports. On top of that, the A520 supports one USB 10Gbps, two USB 5Gbps, and six USB 2.0 ports – labeled by AMD as "hi-speed 480Mbps USB ports." Other specs include two SATA III lanes.
Memory support includes DDR4 with the official maximum speed depending on the CPU used. For instance, the Ryzen 5 5600X officially supports DDR4 memory up to 3200 MT/s You can use faster memory but, considering the limitations of the Infinity Fabric found on every Ryzen processor, we recommend sticking to DDR4 3600 or DDR4 3800.
The A520 only supports PCIe 3.0 lanes, with AMD leaving a humble number of PCIe lanes for storage devices. Considering that the chipset only supports two SATA III ports natively, many manufacturers decided to use two PCIe 3.0 lanes for SATA drives, further limiting the number of NVMe slots found on A520 motherboards. At least the support for high-speed USB ports (5Gbps and 10Gbps) is decent.
CPU compatibility
The A520 chipset works with Ryzen 3000 and Ryzen 5000 CPUs. When it comes to APUs, the A520 supports Ryzen 5000 and 4000 APUs. If you want to pair the A520 with something like the Ryzen 3200G or 3400G, you're out of luck. Note that the Ryzen 4000G APU lineup is officialy available only in prebuilt PCs. If you somehow get your hands on a Ryzen 4000G APU you will be able to pair it with an A520 motherboard.
A520 vs A320 vs B450 vs B550 vs X570
Now, let's compare the humble A520 chipset with the rest of the (newer) AMD AM4 chipset lineup. We will also compare it with the chipset it's supposed to replace, the A320, even though the two don't have much in common, aside from being entry-level AM4 chipsets.
A520 vs. A320
The A520 and A320 support completely different CPUs, but since the A520 is the direct successor of the A320, we will compare the two. First of all, the A320 has the same PCIe 3.0 x4 CPU-chipset link. Next, both chipsets only support PCIe 3.0 CPU lanes, with the older one including four PCIe 2.0 lanes for SATA and M.2 storage devices.
The A320 supports up to one USB 10Gbps, two USB 5Gbps, and six USB 2.0 ports, the same as the A520. There are also two SATA III ports and support for the now obsolete SATA Express standard, which adds four SATA III lanes or one x4 NVMe Gen 3 slot. Motherboards based on the A320 come with low-quality VRMs, not many USB ports, low-quality audio sections, and very little in terms of extra specs.
A520 vs. B450
The B450 chipset isn't the newest, but it's still a solid choice as an entry-level solution for Ryzen 5000 CPUs since most B450 motherboards support the latest Ryzen lineup with a BIOS update. The B450 is also a pretty solid choice for Ryzen 3000 CPUs. This all stands if you don't mind missing some features found on B550 and X570 chipsets, of course, such as PCIe 4.0. If you plan on getting an older Ryzen CPU (2000 series or older), the B450 is the best choice on the market. Finally, the B450 is an excellent choice for office PCs since it supports cheap Ryzen 3000 APUs.
Compared to the B450, the A520 is a step down despite being newer. First, AMD limited both chipsets to PCIe 3.0 standard, so there's no difference there. Further, both chipsets use a PCIe 3.0×4 CPU-chipset link. The B450 comes with eight PCIe 2.0 lanes, while the A520 has six PCIe 3.0 lanes. SATA III support is better on the B450 since the older chipset includes support for two SATA III ports as well as for two (now obsolete) SATA Express lanes manufactures can convert to four SATA III ports or a single x4 NVMe PCIe 3.0 slot.
The B450 also has better USB support. Manufacturers can equip the chipset with up to two USB 10Gbps, two USB 5Gbps, and six USB 2.0 ports. That's on top of the four USB 10Gbps ports provided by the CPU, which equals one more 10Gbps USB port in total compared to the A520. When it comes to other features, many B450 boards have multiple M.2 slots as well as higher quality VRMs compared to A520 boards. B450 boards can also have better audio quality and more expansion slots than most A520 motherboard models.
A520 vs. B550
Comparing the current mid-range chipset with the latest budget chipset will always favor the B550 for apparent reasons. The most critical upgrade found on the B550 chipset is PCIe 4.0 support. The B550 also supports overclocking and more than one GPU (not important anymore, but still).
You also get more one more USB 10Gbps port, more usable PCIe lanes (30 vs. 26), more SATA III ports, much better VRMs (on a majority of B550 motherboards), higher bandwidth LAN ports, better audio quality, etc. But B550 boards also sell at much higher prices than A520 models. At least the two chipsets share the same PCIe 3.0 x4 CPU-chipset link.
When it comes to CPU support, the B550 and A520 support the same CPUs. The B550 is a better choice for Ryzen 5000 CPUs but, for less powerful Ryzen 3000 CPUs that are part of budget builds, the A520 might be a better choice. As long as you don't need extra features. If you plan on building a mid-range or high-end gaming build or productivity rig, the B550 and X570 are much better choices than the meek A520. If you opt for a Ryzen CPU, of course.
A520 Vs. X570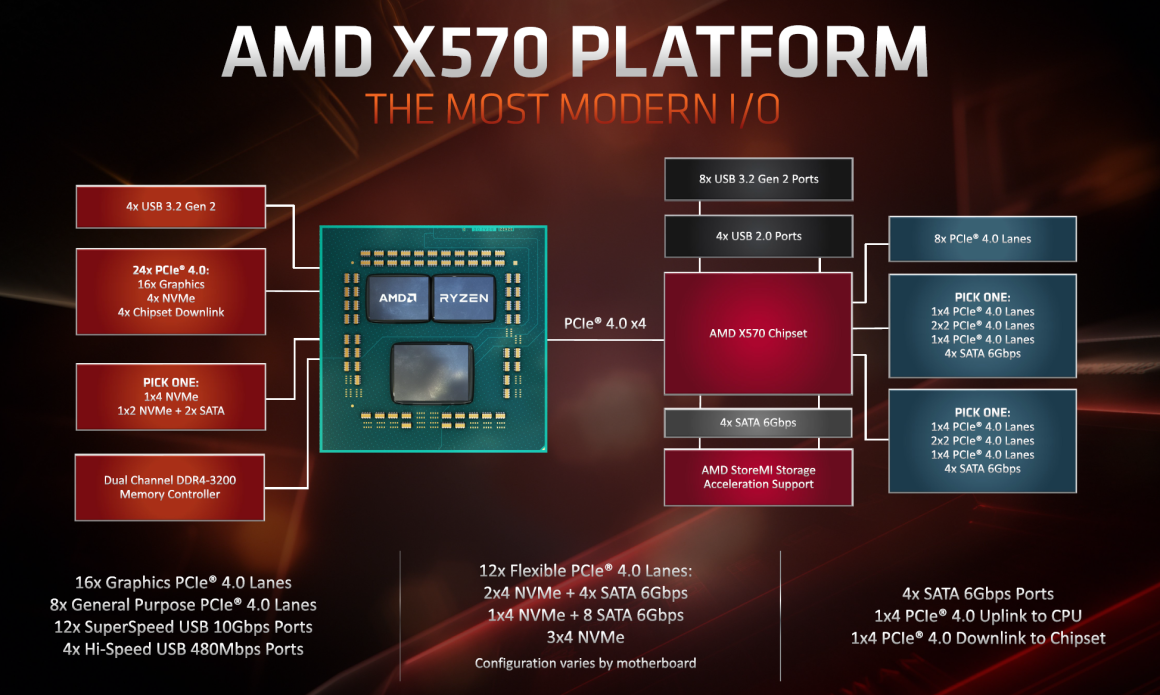 Finally, compared to the current flagship chipset from AMD, the A520 trails miles behind. With the X570 chipset, you get eight USB 10Gbps ports compared to one on the A520. At least the A520 supports two USB 5Gbps ports, while the X570 doesn't support USB 5Gbps. The X570 comes with much more usable PCIe lanes (16 vs. 6), which are all PCIe 4.0 on the flagship chipset. X570 boards also rock much better VRMs, have better audio, can have Wi-Fi 6 and Bluetooth 5 wireless cards, and pack a ton of extra features.
This isn't really a battle since the price disparity is tremendous, but the X570 is the clear winner. Budget builders could use an A520 motherboard if they don't need extra features or PCIe 4.0 support and want to save some cash. With that said, there are pretty cheap B550 boards around that present much better choices. Also, there are budget X570 motherboards out there that won't leave a hole in your wallet.
The B450 market is also still alive, offering pretty solid models for a bit more cash than what you'd pay for an A520 motherboard. The niche where the X570 dominates is content creation, where you need multiple PCIe 4.0 NVMe SSDs. Machines made for work can significantly profit from all those fast PCIe 4.0 lanes reserved for ultra-fast NVMe storage, as well as a ton of other extra features found on the best X570 boards.
Explaining DIMM slots, M.2 slots, form factor, etc.
Form factor –motherboards come in three prevalent form factors: ATX, mATX, and Mini-ITX. If you're interested in learning more about these form factors, we have a handy motherboard form factor guide you can read.
DIMM Slots – Dual in-line memory module, or DIMM, houses RAM sticks. These slots are commonly known as RAM slots or memory slots. You won't find more than four DIMM slots on consumer-grade motherboards.
M.2 Slots – M.2 expansion slots can be compatible with many different devices. With that said, right now, we're talking exclusively about the number of M.2 slots that can host SATA and NVMe SSDs that use the M.2 form factor. On A520 motherboards, you're limited to M.2 SATA SSDs and PCIe 3.0 NVMe SSDs.
SATA III Ports – SATA (serial advanced technology attachment) is an older interface made solely for storage devices. SATA-based HDDs and SSDs are using this interface. They are much slower than NVMe SSDs. Note that M.2 SSDs with SATA speeds aren't the same as SATA SSDs. The first group uses the M.2 form factor, while the second group uses the good old 2.5" form factor.
Purchases through our links may earn us a commission.