Purchases through our links may earn LEVVVEL a commission.
If you're in the market for a prebuilt gaming PC and have a $600 budget, you shouldn't expect miracles. Even the best gaming desktop under $600 won't allow you to play new AAA games with high settings, and that's the reality. However, that doesn't mean you should settle for the first prebuilt that catches your eye.
Instead of getting lost in the jungle filled with shady "gaming builds" made of trash-tier components on Amazon , keep scrolling our list of the best gaming PCs under $600, and we're sure you'll find something that suits your needs and wallet. A gaming PC that's actually worth the price it's selling at. We've included both new and refurbished builds here since a $600 budget is still below the magic line where you can exclusively look for new builds. In fact, the most potent pick on this list is a refurbished PC build.
If $600 is too much for you, check our list of the best gaming PCs under $500. If you want something faster and have the money, we have a guide on the best gaming PCs under $1000. Last but not least, our list of the best IPS monitors has a number of great gaming monitors that won't leave a gaping hole in your wallet. And now, let's start our best gaming PCs under $600 guide with the two best overall picks.
1. iBUYPOWER Trace 9100W: Best new prebuilt gaming PC under $600 overall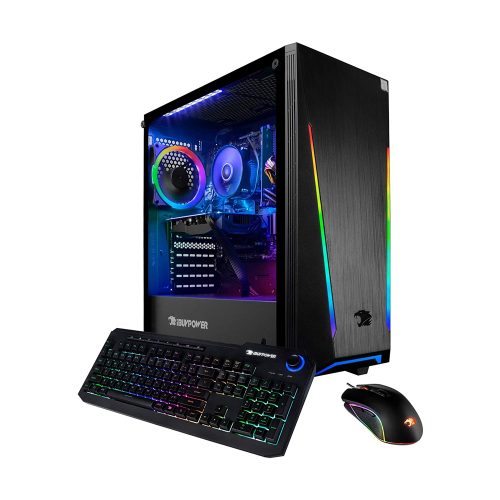 If you're looking for the best new prebuilt gaming PC under $600, the iBUYPOWER Trace 9100W is our recommendation. The innards here won't blow your mind, but they are notably better than what you'd find in other new gaming prebuilts selling for $600 or less. The most significant point of differentiation is the graphics card.
Instead of the GTX 1650 or something even slower, the Trace 9100W packs a 4GB version of the RX 570. This GPU is a capable 1080p performer, and it should be speedy enough to offer a smooth 60fps experience even in the most demanding AAA games, with medium settings. The only thing you should set to low are textures since 4GB of video memory is the limiting factor here.
The CPU part of the build is the Ryzen 3 3100, a four-core/eight-thread SKU that shouldn't have issues with the latest games, as long as you don't chase high refresh rates. Of course, esports titles and older games will run flawlessly, often surpassing 100fps in the case of the former.
Another good news is that firstly, the Ryzen 3100 can handle much faster GPUs – up to the level of RTX 2070/RTX 3060, or the RX 6600. Secondly, you'll be able to upgrade to a much faster CPU in the future instead of getting a new PC since almost every AM4 motherboard now supports Ryzen 5000 processors.
Only 8GB of single-channel memory is the standard in this price category. Unless you get an older refurbished build that packs 16GB of memory, you'll need to buy an additional memory stick for the memory to work in dual channel mode.
As for the storage, the Trace 9100W comes with a 120GB SSD and a 1TB HDD. Not bad considering the price; you should have enough fast storage for the OS and a couple of your favorite games. Unless your favorite game is CoD: Warzone. Good luck trying to fit that behemoth on a tiny, 120GB SSD.
2. HP Pavilion Gaming Desktop: Best refurbished prebuilt gaming PC under $600 overall
Our pick for the best refurbished prebuilt gaming PC under $600 goes to this fantastic HP Pavilion gaming PC. If you're okay with a refurbished PC, you're looking at the best overall gaming computer under $600 you can get right now. Its GPU + CPU combo is a whole tier above everything else you can see here.
We're looking at the 4GB version of the RX 5500, a graphics card that's about 20 percent faster than the RX 570. It should work great with any game and offer a smooth 60fps performance, as long as you keep textures at low. Again, only 4GB of memory is the biggest limiting factor here. And sadly, it's extremely hard to find a graphics card with more than 4GB of video memory in this part of the market.
Next, the Ryzen 5 5600G is by far the fastest processor on this list. This six-core beast is in the ballpark of the i5-11400F and the i5-11600K regarding gaming performance. Compared to the Ryzen 3 3100, the 5600G is in a whole other league. This CPU can handle any GPU you throw at it. This is the one to get if you're looking for a prebuilt gaming PC under $600 with the best upgrade path.
Again, the one spec you should upgrade immediately is the memory. 8GB of RAM is enough for basic gaming but for stutter-free performance, especially in large open-world titles, 16GB is the current standard. Finally, the storage situation here is good and disappointing at the same time. While you are getting a 256GB SSD, the build doesn't include a hard drive. So, yeah, after you get 8GB of extra memory, maybe you should think about sliding a hard drive in the chassis, too.
3. CYBERPOWERPC Gamer Xtreme: Best prebuilt gaming PC with Nvidia GPU under $600
Now, if you're after a new prebuilt with Nvidia GPU, this CyberpowerPC machine should be your first choice. The GTX 1650 here is about 20 percent slower than the RX 570 found in our best gaming desktop under $600 overall pick, but it, too, only has a 4GB memory buffer. This means playing games with low textures and, this time, with the combination of low and medium visuals in order to reach 60fps on average.
As for the CPU, the Core i3-10105F found here matches the Ryzen 3100's gaming performance to a t. The downside is that, in the future, you won't be able to upgrade to a newer CPU. You're stuck with 10th gen Intel non-K CPUs, which isn't as great as being able to swap the CPU with any Ryzen 5000 processor.
Of course, this machine also comes with only 8GB of single-channel memory, so you probably know what you should upgrade first. Finally, this build comes with a 500GB NVMe SSD, which is a totally okay compromise if you ask us. 500GB of fast storage is better than only offering 120GB accompanied by a 1TB hard drive.
4. HP Gaming 690-0009: Best prebuilt gaming PC build under $600 with Intel i5 CPU
The HP Gaming 690-0009 is our pick for the best prebuilt gaming PC under $600 for everyone looking for an Intel i5 CPU. Do note that this is another refurbished PC, but this is the reality of trying to find the best deals with a $600 budget.
The Core i5-8400 found here is Intel's first six-core Core i5 SKU that's more than a solid gaming CPU even today. It's in the ballpark of the Core i5-9600K, which isn't bad at all. This means you'll have no issue running any modern game, even the ones that are super CPU demanding. And if you decide to upgrade the GPU in the future, you'll be able to get anything up to RTX 2070, RTX 3060, or RX 6600.
GPU here is the legendary GTX 1050 Ti. Sure, this graphics card is far from its price, but it's still a decent choice for a budget gaming PC that can run the latest games in 40-60fps and low settings. Overall, this is arguably the best gaming PC with the GTX 1050 Ti under $600 on the market right now.
You've probably guessed that this is another configuration with 8GB of single-channel memory. In other words, you can massively improve gaming performance by either getting another 8GB stick of RAM or selling the one in this PC and getting a 16GB kit. We also recommend installing a cheap, 120GB SSD here since this prebuilt only comes with a 1TB hard drive.
5. ViprTech Prime Gaming: Cheapest new prebuilt gaming PC under $600
The ViprTech Prime Gaming is a new prebuilt PC that sells at just a tad bit over $500. When it comes to new prebuilts, this is the cheapest one you can get without dropping below $500. Being super affordable means you won't get great hardware for the price. At least this model offers more for the money than other similarly priced new prebuilts, which is better than nothing.
We recommend either saving more cash and getting some of the previous picks or checking our best value refurbished pick below. Get this PC only if your $600 budget has to include both the PC and a monitor.
The weakest link in this chain is the decade-old Core i5-3570 CPU, by far the slowest gaming CPU on this list. Next, the 2GB version of the GTX 750 Ti is still a decent choice for 1080p esports gaming but trying to run anything more demanding will either limit you to 30 frames per second or the 720p resolution.
At least you're getting 16GB of memory, which is excellent for the price. However, we'd much more like to see 8GB of memory and a CPU made in the current decade instead. As for the storage, you've got a 128GB SSD paired with a 1TB hard drive. In other words, the usual combo at this price point.
Overall, while offering lots of value for about $500, this isn't a great deal unless you only play undemanding esports games such as Valorant or Dota 2, both of which could run also on a potato.
6. Dell Gaming Precision 3620: Best value refurbished prebuilt gaming PC under $600
Last but not least we have another refurbished offering that offers a lot for the money. The Dell Gaming Precision 3620 has virtually the same price as the ViprTech Prime Gaming but comes with much better innards.
For starters, the GTX 750 Ti here packs 4GB of memory instead of two. This means you'll be able to play games in 1080p resolution. Newer AAA titles won't run great, mind you – 60fps for older titles such as GTA V, 30-40fps for newer AAA games – but at least you'll be able to run them without constant hitches due to the extremely limited 2GB memory buffer.
Next, we have the CPU, which is a five-year-old Core i5-7500. Not great, but five years younger than the poor i5-3570 found in the ViprTech Prime Gaming. Now, this CPU is far from being a gaming powerhouse, but it's more than usable, even with the newest AAA games.
There will be some hitches and stuttering in open-world titles and massive online games (Battlefield V, for instance), but the 7500 should offer more than playable framerates in most other games. You'll be limited by the GPU either way, so it's not that you'll lose performance with this CPU.
Moving on to the memory and storage. First of all, you've got 16GB of dual-channel memory, which is great on such a cheap prebuilt, especially a refurbished one. Next, the Dell Gaming Precision 3620 comes with a 128GB SSD and a 1TB hard drive. That's totally fine at this price point.
Overall, this is the best value gaming PC under $600, as long as you don't mind getting a refurbished one. If you don't like the idea of buying a used PC, save some extra cash and buy some other new pick instead of the ViprTech Prime Gaming. Unless your $600 budget has to cover a PC and a monitor.