Getting a proper power supply for your build is relatively easy. Well, as long as you're only interested in your next PSU having enough watts to power your PC. Once we enter the waters of efficiency, voltage regulation, ripple, modularity, and other performance metrics, the quest of getting the right PSU gets rather complicated rather quickly.
This is why we decided to create this PSU tier list. Our power supply tier list includes a ton of quality PSU models for all kinds of PC builds. From humble budget gaming machines to beastly workstations.
Before we start, let's share a couple of other articles our readers might find interesting. First of all, you'll need a roomy case to house the PSU and other components. So, why don't you check out our guides for the best airflow PC cases and the best budget PC cases? Also, you'd want to know how to read PSU labels if you're in the market for one, so make sure to read our guide on how to check what power supply you have. Now, let's start the Levvvel power supply tier list with tier S, which includes 1500W PSUs and higher. Well, after we explain how our tier list of PC power supplies works.
PSU tier list — how our ranking works
Unlike most other PSU tier lists, our PSU tier list only includes quality options. Instead of tiers representing PSUs of different quality with lower tiers populated with questionable quality models, tiers here represent power requirements.
S tier includes 1500W+ monsters, while the D tier features quality PSUs that top out at 550W or less. And each tier is filled with excellent power supplies, all of which are more than capable of powering your PC, as long as you get a model that's powerful enough for your PC.
While higher tiers primarily include high-end models (you definitely don't want to cheap out on PSU if you're building an expensive rig), lower tiers feature high-end and value options. However, even though they sport lower prices, value models found in our PSU tier list are still more than decent choices in their power bracket.
We omitted ultra-cheap, low-quality power supplies, as well as models that suffer from known issues, like the Gigabyte GP-P750GM & GP-P850GM models – the ones that are prone to literally exploding.
S Tier — extreme gaming builds & high-end workstations (1500W+)
The S tier represents extreme PC builds that require the most potent consumer-grade power supplies on the market. This is a part of our PSU tier list populated by 1500W+ monsters that probably could power a medium-sized cabin if the need arises. When they're not refitted to power a small household, these power supplies are used for extreme rendering workstations featuring multiple RTX 3090s, a boatload of memory, and a high-end CPU.
Well, either that or an extreme gaming build that features a multi-GPU setup. These days, this means either two RTX 3090 or RTX 3090 Ti cards since those are the only current-gen GPUs capable of running in SLI. Either way, you'll need a wickedly powerful power supply, so make sure to get one found in the list below.
Just remember this: do not, under any circumstances, get a cheap PSU. Especially if you need a 1000W+ PSU. Components needed to make an efficient, reliable, and quality power supply that can churn out a kilowatt or more won't be cheap. If you find a cheap PSU rocking a four-digit power output, just skip it. No one can make a cheap power supply this powerful without cutting major corners, and that's a fact.
You can get away with a cheap and unreliable PSU if you're building an HTPC or a basic office machine that won't spend much over 100W, even under peak loads. But in the case of a high-end workstation or any PC build that includes a relatively powerful CPU & GPU combo, stick with tried-and-true power supplies.
ASUS
Be quiet!
Cooler Master
M2000 Platinum
MasterWatt Maker 1500 Plus
Corsair
Enermax
Platimax 1500W
Platimax 1700W
EVGA
SuperNOVA 1600 G2
SuperNOVA 1600 P2
SuperNOVA 1600 T2
Kolink
Silverstone
HELA 2050 Platinum
DA1650
ST1500-TI
ST1500
Super Flower
Leadex Platinum 1600W
Leadex Platinum 2000W
Leadex Titanium 1600W
Thermaltake
Toughpower DPS G RGB 1500W
Toughpower TF1 1550W
A tier — high-end gaming builds & workstations (1000W-1500W)
We reserved the A tier of our PSU tier list for power supplies in the 1000W-1500W range. These PSUs power high-end gaming builds made of, for instance, an RTX 3090 or an RX 6900 XT paired with a newer i9 CPU. These two high-end gaming components can chug more than 800W when under max load.
Add to that insane numbers the RTX 3090 and the RX 6900 XT can reach during short term (20ms or lower) power spikes – about 550W for the RTX 3090 and north of 600W in the case of the AMD flagship – and you begin to understand why even a single-GPU gaming PC these days may require a 1KW+ power supply.
This can be true even if you're rocking an RTX 3080/3080 Ti or an RX 6800 XT coupled with an overclocked Core i7 or Core i9 CPU. While not flagship-level hardware, combinations like these can reach upwards of 750W just for the GPU+CPU combo. This is if we account for those pesky 20ms power spikes, which we should because you want a PSU that won't trip during stress tests, heavy gaming, or intense productivity tasks that sweat both the GPU and the CPU.
Again, when you're in the market for a 1000W+ power supply, do not even begin thinking of cheaping out. Flagship GPUs and CPUs require top-of-the-line power supplies, and getting a shady one could lead to it literally exploding and taking a large chunk of your components with it. Stick to PSUs found on the list below instead; you'll thank us later.
Adata (XPG)
Cybercore 1000W
Cybercore 1300W
Antec
Signature Platinum 1300
Signature Platinum 1000
Signature Titanium 1000
HCG1000 Extreme
HCG Gold 1000W
ASUS
ROG Thor 1000W Platinum II EVA Edition
ROG-THOR-1000P2-GAMING
ROG-THOR-1200P2-GAMING
ROG-THOR-1200P
ROG-STRIX-1000G
Be quiet!
Dark Power Pro 12 1200W
Dark Power 12 1000W
Straight Power 11 Platinum 1200W
Straight Power 11 Platinum 1000W
Straight Power 11 Gold 1000W
Pure Power 11 FM 1000W
Cooler Master
MWE Gold 1050 – V2 1050W
GX GOLD 1050 – V2 1050W
GX GOLD 1250 – V2 1250W
MasterWatt Maker 1200 Plus
V1300 Platinum
V1200 Platinum
V1000 Platinum
Corsair
DeepCool
Enermax
Platimax 1350
Platimax D.F. 1200
Platimax D.F. 1050
MaxTytan 1250
MaxTytan 1050
EVGA
SuperNOVA 1300 G2
SuperNOVA 1200 P2
SuperNOVA 1000 G3
SuperNOVA 1000 G+
SuperNOVA 1000 G2
SuperNOVA 1000 G5
SuperNOVA 1000 G6
SuperNOVA 1000 P2
SuperNOVA 1000 T2
FSP
FSP1200-50AJB
FSP1000-50AJB
In-Win
P125 1250W
P105 1050W
CB-1250W
CB-1050W
Kolink
Continuum 1200W
Continuum V2 1200W
Continuum 1050W
Continuum V2 1050W
MSI
Phanteks
AMP 1000W
Revolt Pro 1000W
Revolt X 1200W
Revolt X 1000W
Seasonic
PRIME TX 1000W
PRIME PX 1000W
PRIME GX 1000W
Focus GX 1000W
Super Flower
LEADEX Titanium 1000W
LEADEX V Gold PRO 1000W
LEADEX V Gold 1000W
LEADEX Gold 1300W
LEADEX Gold 1000W
Silverstone
ST1300-TI
ST1200-PTS
ST1200-PT
ST1100-TI
ST1100-TI
SX1000
ST1000-PT
Thermaltake
Toughpower PF1 1200W
Toughpower PF1 1050W
Toughpower GF1 1200W
Toughpower GF1 1000W
Toughpower PF1 ARGB -1200W
Toughpower PF1 ARGB -1050W
Toughpower iRGB PLUS 1000W
Toughpower iRGB PLUS 1200W
Toughpower iRGB PLUS 1250W
Toughpower iRGB PLUS 1050W
Toughpower Grand RGB 1200W
Toughpower Grand RGB 1050W
Zalman
B tier — mid-to-high-end gaming PCs (750W – 1000W)
This is the sweet spot for mid to high-end builds at the moment. Think something like an RTX 3080/RTX 3080 Ti combined with either a non-K Intel CPU or a stock i5 K-series parts or any Ryzen CPU. Or maybe an RTX 3070 combined with a newer i7/i9 or any Ryzen processor. These builds require a lot of power and, in the worst case, you're looking at 850W of power.
If you're rocking an RTX 3080/RTX 3070 or an RX 6800/RX 6800 XT in combination with an efficient CPU (any Ryzen, non-K Intel parts), you can run that kind of system with a 750W PSU. Some of those combos might be overkill for 850W and 750W models, but we would stay on the safe side and go with more power instead of setting the stage for potential headaches in the future.
This power tier features a considerable number of quality PSUs since this is a super popular market segment. On the one hand, a ton of solid choices can lead to something called choice overload. On the other hand, you'll find a number of great power supplies on the list below, so you don't have to spend a week online drafting the ultimate list of PSUs for your particular build, so that's great.
Adata (XPG)
Core Reactor 850W
Core Reactor 750W
Antec
NEG750 MODULAR
NEG850 MODULAR
HCG850 Extreme
HCG Gold 850W
HCG Gold 750W
EAG PRO 750W
ASUS
ROG-STRIX-850G-WHITE
ROG-STRIX-850G
ROG-STRIX-750G
ROG-THOR-850P
be quiet!
Dark Power 12 850W
Dark Power 12 750W
Straight Power 11 Platinum 850W
Straight Power 11 Platinum 750W
Straight Power 11 Gold 850W
Straight Power 11 Gold 750W
Pure Power 11 FM 850W
Pure Power 11 FM 750W
Bitfenix
Formula Gold 750W
Whisper M 850W
Whisper M 750W
Cooler Master
V850 SFX Gold – White Edition
V750 SFX Gold – White Edition
G800 Gold
MWE Gold 850 – V2
V850 SFX Gold
V850 Gold-V2 White Edition
V850 Gold – V2
V850 Gold
V850 Platinum
MWE Gold 750
MWE Gold 750 – V2
V750 SFX Gold
Corsair
RM850x
RM850
HX850
RM750x
RM750
HX750
SF750 Gold/Platinum
CX750F RGB
CX750M
DeepCool
PQ850M
PQ750M
DQ850-M-V2L
DQ750-M-V2L
Enermax
MaxTytan 800 Watt
Platimax 850W
Platimax 750W
Platimax D.F. 850 Watt
Platimax D.F. 750 Watt
REVOLUTION D.F. 850 Watt
REVOLUTION D.F. 750 Watt
EVGA
850 B3
SuperNOVA 850 G+
SuperNOVA 850 G3
SuperNOVA 850 G2
SuperNOVA 850 G5
SuperNOVA 850 G6
SuperNOVA 850 P2
SuperNOVA 850 T2
750 B3
SuperNOVA 750 G+
SuperNOVA 750 G2
SuperNOVA 750 G3
SuperNOVA 750 G5
SuperNOVA 750 G6
SuperNOVA 750 P2
Fractal Design
Ion+ 860W Platinum
Ion+ 2 860W Platinum
Ion Gold 850W
Ion+ 760W Platinum
Ion+ 2 760W Platinum
Ion Gold 750W
Great Wall
In Win
PB-850W
PB-750W
P85-850W
P75-750W
Kolink
MSI
Phanteks
AMP 850W
AMP 750W
Revolt Pro 850W
Seasonic
PRIME TX 850
PRIME TX 750
PRIME PX 850
PRIME PX 750
PRIME GX 850
PRIME GX 750
PRIME SnowSilent 750
FOCUS PX 850
FOCUS PX 750
FOCUS GX 850
FOCUS GX 750
FOCUS SPX 750
FOCUS SGX 750
FOCUS GM 850
FOCUS GM 750
Silverstone
DA850 Gold
DA750 Gold
SX 750 Gold
ST85F-PT
ST85FGS
ST85F-P
ST80F-TI
SX800-LTI
ST75F-PT
SX750 Platinum
ET750-HG
ET750-G
ST75F-P
Super Flower
LEADEX TITANIUM 850W
LEADEX TITANIUM 750W
LEADEX PLATINUM 850W
LEADEX PLATINUM 750W
LEADEX Gold 750W
LEADEX V Gold PRO 850W
LEADEX V Gold PRO 750W
LEADEX V Gold 850W
LEADEX V Gold 750W
LEADEX III Gold 850W
LEADEX III Gold 750W
LEADEX III Gold ARGB PRO 850W
LEADEX III Gold ARGB PRO 750W
Thermaltake
Toughpower GF1 850W Snow
Toughpower GF2 ARGB 850W
Toughpower PF1 850W
Toughpower GF1 ARGB 850W Gold
Toughpower PF1 ARGB – 850W
Toughpower GF1 850W
Toughpower iRGB PLUS 850W Gold
Toughpower Grand RGB 850W Gold
Toughpower iRGB PLUS 850W Platinum
Toughpower Grand RGB 850W Platinum
Toughpower Grand RGB 850W Gold
Toughpower DPS G RGB 850W Titanium
Toughpower GF1 750W Snow
Toughpower GF2 ARGB 750W
Toughpower PF1 750W
Toughpower GF1 ARGB 750W Gold
Toughpower iRGB PLUS 750W Gold
Toughpower Grand RGB 750W Gold
Zalman
C tier — mid-range gaming PCs (600W-750W)
The C tier of our PSU tier list tops out at 650W. These PSUs are perfect for mid-range builds that rock GPUs such as the RTX 3060 Ti, RTX 3070, or the RX 6700 XT/RX 6750 XT. You can pair more or less any consumer-grade CPU with the cards listed above, even overclock it, and you should be OK with a 650W power supply unit.
We also recommend a 650W PSU for builds based on the RTX 3060 or the RX 6600 XT/RX 6650 XT/RX 6600. It's overkill, but if you get a more powerful GPU in the future (and as it looks right now, the next generation of Nvidia cards will be extremely power-hungry), you'll be able to run the upgraded system with the same PSU.
Overclocked K series Intel CPUs paired with one of the GPUs listed above may come close to topping out at almost 600W when both components are under maximum load. During stress tests, for instance. Luckily, for gaming purposes, even an overclocked K-series Intel CPU is extremely power efficient. You can pair it with one of the GPUs listed above and a quality 650W PSU.
This tier is where you can get excellent performance even with a mid-range or a quality budget power supply. Now, don't forget the word quality. Being affordable compared to the competition doesn't also mean being below the competition in terms of efficiency and performance.
If you're on the cautious side and aren't shy to check user and professional reviews, you can find excellent PSUs in this power tier that won't break the bank. Just be extra attentive because this market segment is the point where the price difference between quality budget options and subpar PSUs starts to get really thin.
Adata (XPG)
Antec
NEG650 MODULAR
HCG Gold 650W
EAG PRO 650W
ASUS
ROG-STRIX-650G
TUF-GAMING-650B
be quiet!
Straight Power 11 Platinum 650W
Pure Power 11 FM 650W
Pure Power 11 700W
Pure Power 11 600W
SFX L Power 600W
Bitfenix
Formula Gold 650W
Whisper M 650W
Cooler Master
MWE Gold 650 Modular
MWE Gold 650
MWE Gold 650 – V2
MWE Gold 650 – V2 Modular
V650 Gold
V650 Gold – V2
V650 SFX Gold
G700 Gold
G600 Gold
Corsair
RM650
CX650M
SF600 Gold/Platinum
CX650
CX650F RGB
RM650x
DeepCool
Enermax
Platimax 600W
Platimax D.F. 600 Watt
REVOLUTION D.F. 650
EVGA
SuperNOVA 650 G+
SuperNOVA 650 G3
SuperNOVA 650 G2
SuperNOVA 650 GM
SuperNOVA 650 G6
SuperNOVA 650 P2
Fractal Design
Ion+ 2 Platinum 660W
Ion+ Platinum 660W
Ion SFX-L 650W Gold
Ion Gold 650W
Great Wall
In Win
Kolink
MSI
Phanteks
Seasonic
PRIME TX 650W
PRIME Fanless TX 700W
PRIME Fanless TX 600W
PRIME PX 650W
PRIME GX 650W
PRIME SnowSilent 650W
FOCUS PX 650W
FOCUS GX 650W
FOCUS SPX 650W
FOCUS SGX 650W
FOCUS GM 650W
Silverstone
ST65F-PT
SX650-G
ST65F-GS
ST65F-G
ET650-G
Viva 650 Gold
ST60F-TI
ET600-MG
SX600-G
Super Flower
LEADEX PLATINUM 650W
LEADEX Gold 650W
LEADEX V Gold 650W
LEADEX III Gold 650W
LEADEX III Gold ARGB PRO 650W
Thermaltake
Toughpower GF1 650W Snow
Toughpower SFX 650W Gold
Toughpower GF2 ARGB 650W
Toughpower PF1 650W
Toughpower GF1 ARGB 650W Gold
Toughpower GF1 650W
Toughpower GF 650W
Toughpower GX1 RGB 600W
Toughpower Grand RGB 650W Gold
Toughpower GX1 600W Gold
Toughpower DPS G RGB 650W Gold
D tier — budget gaming builds & iGPU PCs (550W and less)
Last but not least, we have the D power tier, encompassing both budget gaming builds and iGPU PCs such as HTPCs and office machines. Think something such as the RTX 3060 or the RX 6600 XT along with any Ryzen CPU or intel 12600K or non-K CPUs.
Now, those rocking a mid-range GPU and an efficient (let's say 65W of max power, like the R5 5600X) CPU could get by with a 450W PSU. However, due to price differences being quite minimal between 450W and 550W models, we would recommend a 550W power supply for gaming builds at a minimum.
iGPU builds, on the other hand, could work fine even with a 350W or 400W PSU. If you're in the market for a low-power PC that either doesn't have a dedicated GPU or has something like the GT 710 that needs less than 20W of power, you can get a cheap PSU that doesn't have a great performance or efficiency.
Just make sure that it doesn't explode or that it isn't prone to sudden and abrupt malfunctions. In other words, read both professional and user reviews.
Adata (XPG)
Antec
ASUS
ROG-STRIX-550G
TUF-GAMING-550B
TUF-GAMING-450B
be quiet!
Straight Power 11 Platinum 550W
Straight Power 11 Gold 550W
Straight Power 11 Gold 450W
Pure Power 11 FM 550W
Pure Power 11 500W
Pure Power 11 400W
Pure Power 11 350W
Pure Power 11 300W
SFX L Power 500W
SFX Power 3 450W
SFX Power 3 300W
Bitfenix
Formula Gold 550W
Formula Gold 450W
Whisper M 550W
Whisper M 450W
Formula Bronze 500W
Formula Bronze 400W
Cooler Master
MWE Gold 550
MWE Gold 550 – V2
MWE BRONZE 550
MWE 500 Bronze – V2
MWE 550 Bronze – V2
V550 Gold
V550
MWE BRONZE 450
Corsair
CX550M
CX550
CV550
CX550F RGB
CX450M
CX450
CV450
VS350
EVGA
Fractal Design
Ion+ 2 560W Platinum
Ion Gold 550W
Ion SFX-L 500W Gold
Ion+ 560W Platinum
Kolink
LC Power
MSI
Phanteks
Seasonic
PRIME Fanless PX 500W
PRIME Fanless PX 450W
PRIME SnowSilent 550W
FOCUS PX 550W
FOCUS GX 550W
FOCUS SGX 550W
FOCUS SGX 450W
FOCUS GM 550W
FOCUS GM 500W
CORE GX 550W
CORE GX 500W
CORE GM 550W
CORE GM 500W
CORE GC 550W
CORE GC 500W
ECO PLUS 500W
ECO PLUS 400W
Silverstone
DA550 Gold
ST55F-PT
SX550
ST55F-GS
ST55F-G
ET550HG
ET500-MG
SX500-LG
SX500-G
NJ450-SXL
ST45SF-G
Super Flower
LEADEX Gold 550W
LEADEX III Gold 550W
Thermaltake
Toughpower SFX 550W Gold
Toughpower GF 550W
Smart BM2 550W
Toughpower GX1 RGB 500W Gold
Toughpower SFX 450W Gold
Zalman
Smart BM2 450W
GigaMax [550W] ZM550-GVII
PSU tier list — what to watch for when buying a power supply
If you're in the market for a new power supply, there are five things you should watch for:
Avoid all PSUs that don't bear the 80Plus certification label.
Pick a PSU with a warranty period of at least five years.
Get a PSU that has some headroom when it comes to its power output.
Avoid cheap models from unknown brands.
Always read user and professional reviews before pulling the trigger; even big-name brands can deliver faulty, low-quality products.
PSU tier list FAQ
Now, let's answer some of the common questions regarding PC power supplies.
How do I calculate power requirements for my build?
The fastest and easiest way to calculate just how much power you need is to visit one of the many online power calculators. The one on the Seasonic website is pretty solid. As is the one on Corsair's site. Newegg also has one, as well as Cooler Master and be quiet!.
80Plus certificate – what is it?
The 80Plus certificate shows just how efficient a PSU is under load. In other words, the certification shows that a particular PSU is able to convert at least 80 percent (80Plus Bronze) of the input power to output power under 20%, 50%, and 100% load. The rest of the input power turns into heat waste.
Higher levels (gold, platinum, titanium) mean higher efficiency. A PSU bearing the 80Plus Titanium label means that this PSU will have at least 90 percent efficiency under load. You can see the entire table below: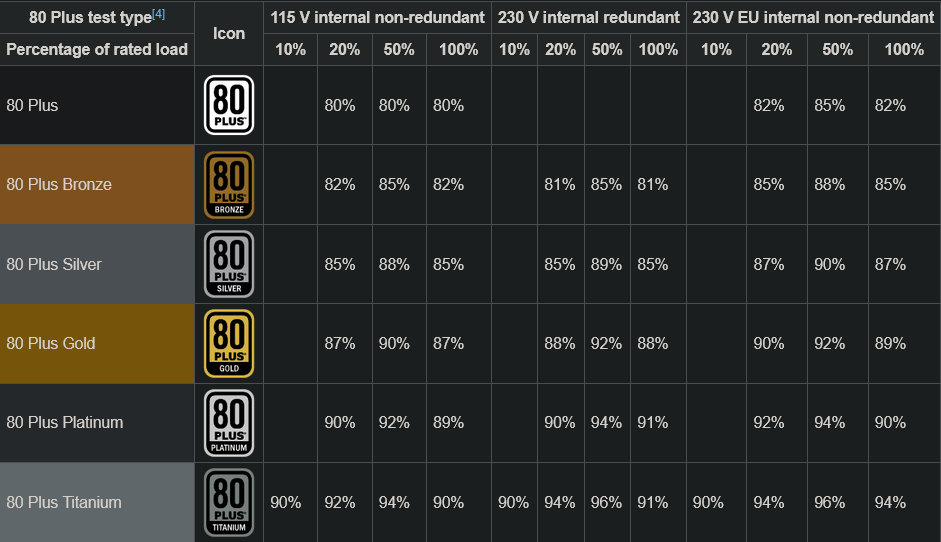 Single rail vs multi-rail power supplies – what's the difference?
Back in the day, multi-rail PSUs had multiple physical paths or "rails" through which the current flowed. On the other hand, single-ray PSUs have their entire amperage run through a single rail. This meant, at least in theory, that multi-rail PSUs were safer.
In practice, multiple rails allowed lower load for individual components (for instance, one rail would deliver power to the CPU, another for the GPU, one for SATA power, etc.). This equals less chance for the PSU to fry a component when it dies. The thing is, both variants had, and still have, the same protective circuitry. In other words, single rail power supplies are, in practice, as safe as their multi-rail cousins.
These days multi-rail power supplies don't have multiple physical rails. Instead, they only have multiple points for measuring the current, not just one found in single-rail models. This means they should shut off earlier and have less risk of burning your components. But in practice, if you get a quality single-rail PSU, you'll be just fine. After all, a vast majority of the current PSU models, including those shown in our PSU tier list, are single-rail.
Modular vs semi-modular vs non-modular power supplies – what's the difference?
Modular power supplies allow users to only use the power cables they need by having all of their power cables detachable.
On semi-modular PSUs, most of the power cables are detachable. Only the most important ones (usually those that connect to your motherboard) are permanently attached.
Finally, non-modular power supplies have all cables permanently attached.
Most PSUs found in our PSU tier list are either fully modular or semi-modular.
What are OCP, OPP, OTP, and SCP?
OCP – Over current protection. This feature stops the PSU from delivering more power than its internal components can handle. It's usually set at 130-150% of the max rated power for a specific PSU model. OCP is usually part of multi-rail PSUs.
OPP – Over power protection. This feature is very similar to the OCP. It's found on single-rail power supplies, and it plays the same role as the OCP in multi-rail units. In other words, OPP shuts down the PSU once the input power exceeds the max power output of the said PSU by a small margin (50W-200W).
SCP – Short circuit protection. This type of protection immediately shuts down the PSU if output rails are short-circuited.
OTP – Over-temperature protection shuts down the PSU if its temperature (usually the temperature of the secondary heat sink) exceeds a certain threshold set by the manufacturer.
OVP/UVP – Over voltage and under-voltage protection. These features shut down the PSU if the input voltage goes under or over a certain threshold.
What's voltage regulation/load regulation?
Voltage regulation is the ability of a PSU to maintain constant voltage under different load levels. The lower the variance, the better. Ideally, you'd want variance lower than 1 percent.
What does ripple suppression mean?
Ripple suppression means that the PSU is suppressing (filtering) the variation (ripple) in the output (DC) voltage, which is an artifact of the AC to DC conversion process. The lower the ripple, the better. Ideally, it should stay at or below 40mV, but higher values (up to around 60mV at 100 percent load) are also acceptable.