Anyone who plays Raid: Shadow Legends will tell you that there are dozens of interesting Champions to choose from, all with their own specifications, Affinities, and combat abilities. It comes as no surprise that not all Champions are created equal, as some have abilities or characteristics that make them stand above the rest, making it difficult to choose the best ones.
Usually, you need experience with playing all of the Champions to know for sure which ones are the best, but who has time for that? You must be here because you're an opportunist who wants to have all of the necessary knowledge at their fingertips, and for that, we have created this Raid: Shadow Legends tier list to help you figure out which champions are the best so you can form the perfect party.
Raid: Shadow Legends carries a lot of fantasy elements which makes it very popular among fans of the genre. If you're one of those fans, then consider taking a look at some of our popular articles like best RPG games and best free PC games. To get most of the Raid: Shadow legends check out our Raid: Shadow Legends promo codes.
All of the factions in Raid: Shadow Legends
The game has a lot of factions with a lot of sub-characters in each respective one. Because of this, there is an incredible amount of complexity to choosing the right Champion that fits your party. Here are the main factions in the game, and we'll take a look at the Champions in each.
Barbarians
Barbarians are very reminiscent of Vikings from history and their demeanor is very fiery to match. In the game, they are presented as sellswords and mercenaries who offer their murderous services to the highest bidder.
S tier
A tier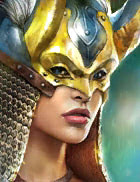 B tier
C tier
D tier
Skinwalkers
Skinwalkers are exactly what you would expect — they are monstrous combatants that shift their appearance from humans to humanoid monsters reminiscent of animals. They are ferocious and carry great power with them.
S tier
A tier
B tier
C tier
D tier
Banner Lords
Banner Lords are easily distinguished from other units by their unique style and appearance. They are knights when it comes to the lore, as well as elite combatants that are sworn to King Tayba.
S tier
A tier
B tier
C tier
D tier
Sacred Order
The equivalent to cleansing Paladins in Raid: Shadow Legends, The Sacred Order is a legion of holy knights that used to keep watch over Teleria until the war broke out. After the war, they went their own way, abandoning traditional practices.
S tier
A tier
B tier
C tier
D tier
Dark Elves
The Dark Elves are a rather secluded race of creatures that have fallen from grace. They hide in forests, not bothering anyone unless they try to pass through their woods. If they cannot pay the toll, they are never seen again.
S tier
A tier
B tier
C tier
D tier
Orcs
A classic race that is present in many fantasy worlds, they are ferocious green warriors that have no empathy for anything and want nothing but destruction for anything they come across.
S tier
A tier
B tier
C tier
D tier
Demonspawn
The Demonspawn is a faction that operates beyond the metaphysical borders of Teleria. They are monstrous beings born of malicious dark energy. They are created by the union of a mortal and the higher beings of their realm and are the visage of true evil.
S tier
A tier
B tier
C tier
D tier
Ogryn Tribes
The Ogryn Tribes are tribes populated by massive ogre-like creatures that are incredibly aggressive and brutal. They value power and want to control a wider span of land than the one they share with the Skinwalkers.
S tier
A tier
B tier
C tier
D tier
Dwarves
The Dwarves of Raid: Shadow Legends are a stout race that prefers outright combat and value treasure beyond measure. However, their glory days of forging weapons are long gone, as they try to make ends meet.
S tier
A tier
B tier
C tier
D tier
Lizardmen
As the name suggests, the Lizardmen are reptilian warriors renowned for their brutality on the battlefield, as well as their ferocious demeanor. They rely on underhand tactics to get what they want.
S tier
A tier
B tier
C tier
D tier
High Elves
High Elves are the counterpart to Dark Elves, as they live lavish lifestyles in grand cities undergoing their own form of an enlightenment period. They are fair, gallant, skilled, and socialized.
S tier
A tier
B tier
C tier
D tier
Undead Hordes
Born of the Corruption, the Undead Hordes are legions of malicious monsters hell-bent on bringing death and destruction wherever they go. They range from the most basic revived footsoldier to the highest of fiends.
S tier
A tier
B tier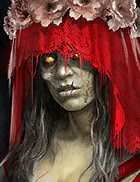 C tier
D tier
Knight Revenants
Spectral Raiders inhabiting the bodies of fallen warriors, the Knight Revenant is a death cult under the guide of K'leth. They are merciless and do not discriminate when it comes to their plunder.
S tier
A tier
B tier
C tier
D tier
Shadowkin
A relatively new faction, the Shadowkin comes from eastern lands newly liberated from the vice grip of the Demonspawn. They are notorious warriors from many backgrounds, making them great for any party.
S tier
A tier
B tier
C tier
D tier
And there you have it! All of the Champions in Raid: Shadow Legends ranked. If you take the time to read up on the pros and cons of each faction you're sure to figure out what works best for you and your party. If you've found the list helpful, then also take a look at our Raid: Shadow Legends guide for even more useful information!