Purchases through our links may earn us a commission.
The X570 is the flagship Ryzen chipset that supports Ryzen 3000 (Zen 2) and 5000 (Zen 3) CPUs. The chipset features the AM4 CPU socket. AMD released the X570 in July 2019 and, more than two years later, the X570 remains the high-end option for all future Ryzen owners. The X570 is the first chipset designed in-house and manufactured by AMD. If you want to find out more about X570 motherboards or motherboards in general, visit Levvvel's motherboard section, it includes a ton of helpful buying guides and informational articles.
X570's most important update is PCIe 4.0 support, including PCIe 4.0 lanes present on the chipset. The X570 also comes with a ton of USB 3.2 10Gbps connectivity. Further, the X570 is the only Ryzen chipset (at the moment) that features PCIe 4.0 CPU-chipset link (x4 PCIe 4.0). On the flip side, it's also the only chipset on the market right now that requires active cooling since its TDP is 11W. AMD fixed this issue with the X570S refresh but more on that later. Before we delve into X570 hardware specs, check out the full X570 motherboard list below.
X570 motherboard list
X570 chipset features
AM4 Socket
The X570 chipset features the fantastic AM4 CPU socket. AMD has used the AM4 socket for five CPU generations – Athlon X4, Zen, Zen+, Zen 2, and Zen 3 – and there's a chance that the upcoming Zen 3D CPU lineup is also AM4-based. The AM4 can be found on motherboards rocking eight different chipsets, which is a noteworthy achievement. Especially when we look at Intel and their practice of limiting each chipset to one or two CPU generations. For instance, the latest Z690 chipset and motherboards support Alder Lake and will most likely also support the upcoming Raptor Lake CPU generation.
X570 hardware specs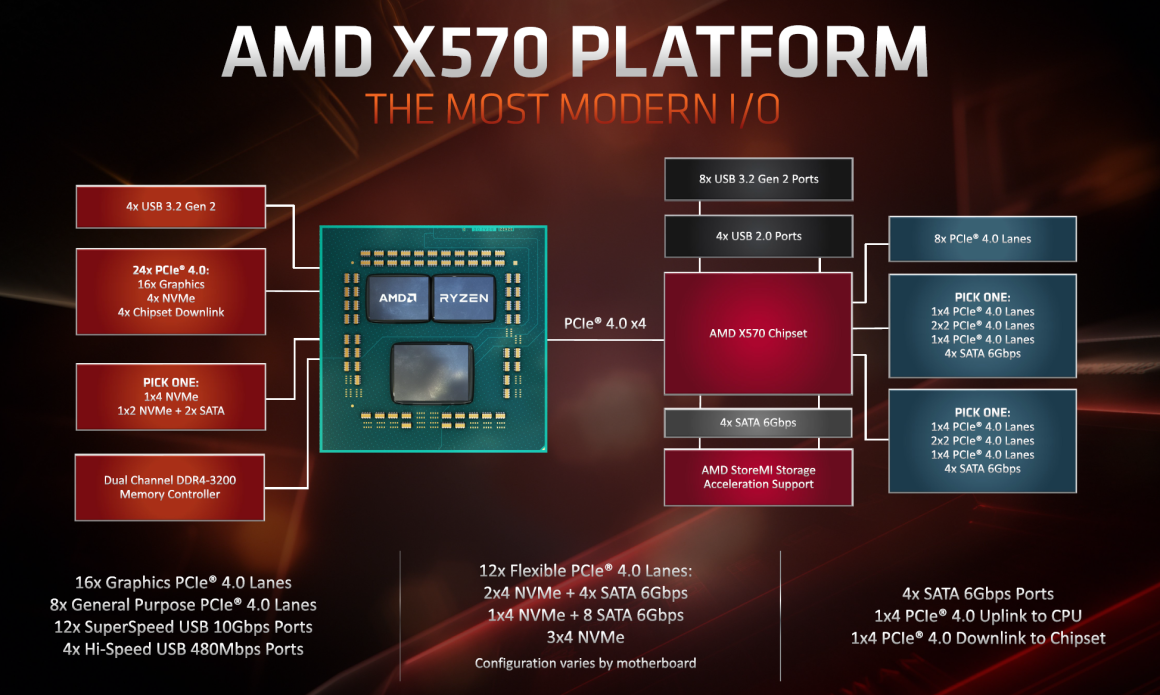 The most notable new feature found on the X570 chipset – and, later, on the B550 chipset – is PCIe 4.0 support. With twenty usable PCIe 4.0 lanes – twenty-four in total minus four lanes used for chipset downlink – from the CPU along with sixteen PCIe 4.0 lanes on the chipset itself, the X570 has access to a whopping 36 PCIe 4.0 lanes in total. While sixteen CPU PCIe lanes are reserved for graphics, OEMs can combine four into the following configurations:
1×4 NVMe
1×2 NVMe + 2 SATA III
It's worth noting that the X570 supports multi-GPU setups, in which case the sixteen PCIe 4.0 lanes can work in x8/x8 mode across two x16 PCIe slots. As for the sixteen chipset PCIe 4.0 lanes, manufacturers can combine eight into the following configurations:
1×4 PCIe 4.0 lanes
2×2 PCIe 4.0 lanes
4×1 PCIe 4.0 lanes
4x SATA III
1×4 PCIe 4.0 lanes
2×2 PCIe 4.0 lanes
4×1 PCIe 4.0 lanes
4x SATA III
OEMs can freely combine the remaining eight lanes into multiple x1, x2, x3, x4 lanes or one x8 lane (for the third x16 PCIe slot), but they cannot transform them to SATA III ports. This allows X570 motherboards to come with a bunch of different configurations, depending on the manufacturer design. Most motherboard vendors opted for multiple PCIe 4.0 M.2 slots for high-speed PCIe 4.0 NVMe storage drives. As for the SATA III support, you can have up to sixteen SATA III ports. The chipset has four native SATA III ports on top of the ten SATA III ports available via PCIe 4.0 lanes.
The X570 has impressive USB support. The CPU includes four USB 3.2 10Gbps ports, with the chipset providing eight 10Gbps ports. That's potential for up to twelve USB 3.2 10Gbps ports. The X570 also includes support for up to four USB 2.0 ports. Another first for the X570, aside from PCIe 4.0 support, is native DDR4 support that finally broke the 3000 MT/s limit, reaching DDR4 3200. Finally, showing that they matured as a company, AMD designed the X570 in-house. AMD has designed and manufactured older chipsets in cooperation with ASMedia.
Not all features of the X570 were improvements over the older chipsets. Chipset's TPD is 11W, a massive increase of the X470 TDP of only 4.8W. The increase meant that X570 motherboards had to use active cooling, which increased noise and introduced one extra point of failure. AMD knew that high TDP was an issue. To solve the high TDP issue, the company has released a refresh of the X570, dubbed X570S, in 2021. The S version has lower TDP, with other specs intact. Thanks to the lower TDP, motherboards rocking the X570S chipset use passive cooling. Finally, like most Ryzen chipsets, the X570 supports overclocking.
CPU compatibility
The X570 chipset currently supports Ryzen 3000 & 5000 CPUs. This includes Ryzen 5000 APUs such as the 5600G. On the other hand, this doesn't include Ryzen 3000 APUs such as the popular 3400G. Finally, the chipset can run Ryzen 4000 APUs, which are OEM-exclusive. In other words, Ryzen 4000 APUs can only be found in prebuilt systems or on the used market.
Regarding future CPU support, there's a high chance the X570 and B550 chipsets will support the upcoming Zen 3D CPU lineup. Zen 3D will include AMD's 3D Cache technology, die shrink, and other minor improvements. At the moment, Zen 3D is designed as a short-term answer to the excellent Alder Lake CPU series from Intel and is set for release in early 2022. Zen 4, which should bring a slew of improvements along with DDR5 and PCIe 5.0 support, will most definitely use the new AM5 CPU socket. AMD should release Zen 4 in late 2022.
X570 vs X470 vs A520 vs B550
Below we're comparing the X570 with its direct predecessor, the X470. On top of that, we're also comparing the current flagship Ryzen chipset with the rest of the current Ryzen chipset lineup, the entry-level A520 and the mid-range option, the B550.
X570 vs X470
The X470 chipset is the direct predecessor of the X570, a flagship chipset for the Zen+ (Ryzen 2000) CPU series. The differences between the two are massive. For instance, the X470 has only eight usable PCIe 3.0 lanes coming from the chipset, while the X570 features sixteen PCIe 4.0 lanes. Next, the X470 supports up to two USB 3.2 10Gbps and six USB 3.2 5Gbps ports, while its successor can have up to eight USB 3.2 10Gbps ports. The chipset link in the X470 is x4 PCIe 3.0, while the X570 has an upgraded x4 PCIe 4.0 CPU-chipset link.
The X470 also comes with, now nowhere to be seen, SATA Express support as well as AMD's unsuccessful StoreMI technology. Both chipsets support multi-GPU setups as well as overclocking. When it comes to CPU support, the X470 can work with Ryzen 3000 and 5000 CPUs via BIOS updates. However, updating the BIOS to support the Zen 3 (Ryzen 5000) lineup means removing support for other CPUs without a way to roll back the BIOS update. AMD planned to restrict most X470 motherboards to Zen 2 but a massive uproar from Ryzen owners made the company to switch its original stance.
While not as transforming as the X570, the X470 was the first Ryzen chipset to work fine with high-speed memory (DDR4 over 3000MT/s) despite officially supporting DDR4 2933. Also, with a TDP of only 4.8W, the X470 didn't require active cooling. Nowadays, there's no reason to get an X470 motherboard. For older Ryzen parts, you have still pretty solid and quite cheap B450 motherboards, while the B550 and X570 present much better options for newer Ryzen CPUs. An X470 motherboard could be a solid choice for a budget NAS or server setup, but only if you find it dirt cheap or have one laying around that you're not using anymore.
X570 vs A520
The A520 is an entry-level chipset limited to PCIe 3.0 despite being the same generation as the X570. Other limits include lack of overclocking support, limited high-speed USB support, and only six PCIe 3.0 lanes coming from the chipset. Of course, being entry-level means that A520 motherboards have – on average – lower quality VRMs and audio sections, as well as significantly reduced features compared to the X570 motherboard lineup. Overall, the A520 is okay for bulk purchases and ultra-budget setups but if you're thinking about getting a Zen 2 or Zen 3 CPU, stick to X570 and B550 motherboards.
X570 vs B550
On paper, the X570 is much better than the B550. The flagship chipset has sixteen more PCIe 4.0 lanes, support for six more USB 3.2 10Gbps ports, CPU-chipset link that's PCIe 4.0 and not PCIe 3.0, and support for multi-GPU setups. In reality, though, the B550 is almost as good as the X570 and, in many cases, a better choice than the latter. When it comes to real-life usage, the only notable upgrade the X570 has over the B550 is the ability to run more than one PCIe 4.0 NVMe SSD. SLI and Crossfire are dead, Ryzen CPUs come with four USB 3.2 10Gbps ports upping the max number of high-speed USB ports on B550 boards to six, and the PCIe 4.0 chipset link doesn't bring any performance improvements.
When it comes to motherboard specs, both B550 and X570 boards come with excellent VRMs and audio solutions (on average), and they both have plenty of USB ports and expansion slots. The B550 motherboard lineup has a slight advantage since even the budget B550 boards come with 2.5Gbps LAN as default, which isn't true for budget X570 models. Finally, the B550 chipset doesn't require active cooling. The cooling issue was solved with the X570S refresh, but the higher average price remains.
In the vast majority of scenarios, a B550 board is a better choice than an X570 model. We only advise for an X570 board over a B550 if you need multiple PCIe 4.0 SSDs. For everything else, save a bit of cash and go with the B550.
Explaining DIMM slots, M.2 slots, form factor, etc.
Form factor – There are three main motherboard form factors, at least when it comes to consumer-grade models: ATX, mATX, and Mini-ITX. If you want to find more about motherboard form factors, check out our motherboard form factor guide.
DIMM Slots – Dual in-line memory module, or DIMM, is a slot that hosts RAM modules. More popular names for DIMM slots are memory slots and RAM slots. Most motherboards either come with two or four DIMM slots. In the case of X570 boards, you'll hardly find a motherboard rocking two memory slots.
M.2 Slots – M.2 slots can be found on every modern motherboard. The M.2 standard was developed for many potential uses, but the vast majority of M.2 devices are SSDs and wireless adapters. In the context of this list, the number of M.2 slots equals the number of M.2 slots for storage devices.
SATA III Ports – SATA (serial advanced technology attachment) is a storage device standard that has dominated the PC space for over a decade. The M.2 standard replaced it in the meantime, but the good old SATA is still alive because many users still rock HDDs and SATA SSDs.
BIOS Flashback button – The BIOS Flashback allows users to update their motherboard BIOS without a CPU. This can be super useful when you're updating to a new CPU but don't have the old one to use for the BIOS update or when buying a new board that doesn't natively support the CPU you're planning to pair it with. And since X570 motherboards come without native Ryzen 5000 support, chances are you'll have to update the BIOS in case you've gotten an X570 + Ryzen 5000 combo. With that said, by now, most X570 should support Zen 3 (Ryzen 5000) CPU generation out-of-the-box.
Purchases through our links may earn us a commission.