Purchases through our links may earn LEVVVEL a commission.
Tired of your World of Tanks username? Is it based on a tired, old meme? Or did something happen since you chose it that made it age like milk? Luckily, Wargaming lets players change their in-game screen name (at a cost).
In this guide, we'll walk you through the whole process from start to finish. We'll also touch a little on the basic rules of World of Tanks usernames—i.e., things you can and cannot call yourself in the game.
World of Tanks account feeling a little short on Gold? Give yourself a quick injection of free and easy Gold with this World of Tanks bonus codes list 2023.
How to change your in-game username in WoT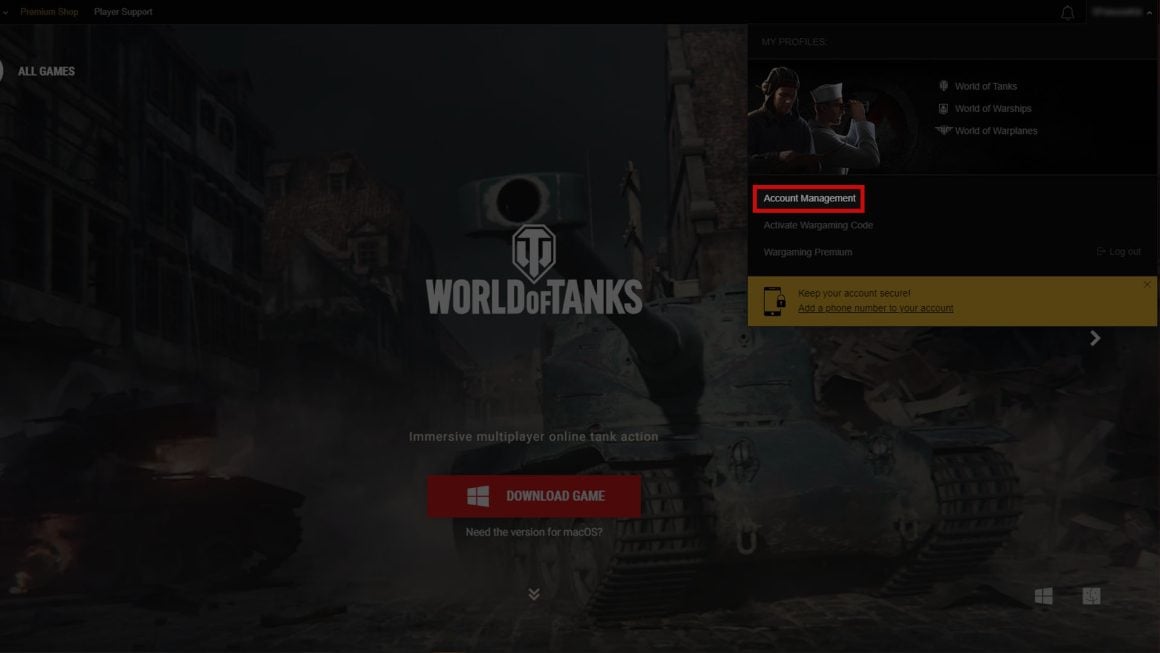 World of Tanks makes it very easy to change your username, though it will cost you some of the game's premium currency. Follow the steps below to change your username in World of Tanks: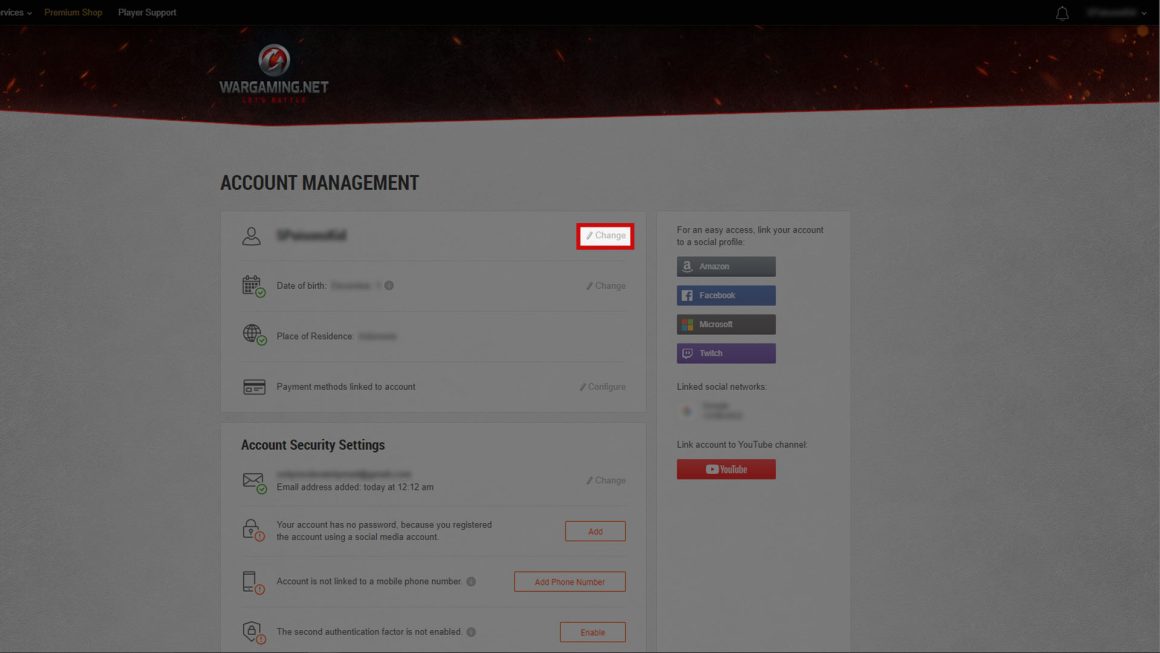 Go to the official Wargaming website.
Log into your Wargaming ID account.
Go to the Account Management section of your profile.
Click the Change button beside your current username.
Type in the new username that you want to use.
Choose the currency you want to use to pay for the username change service.
Click on the Change button.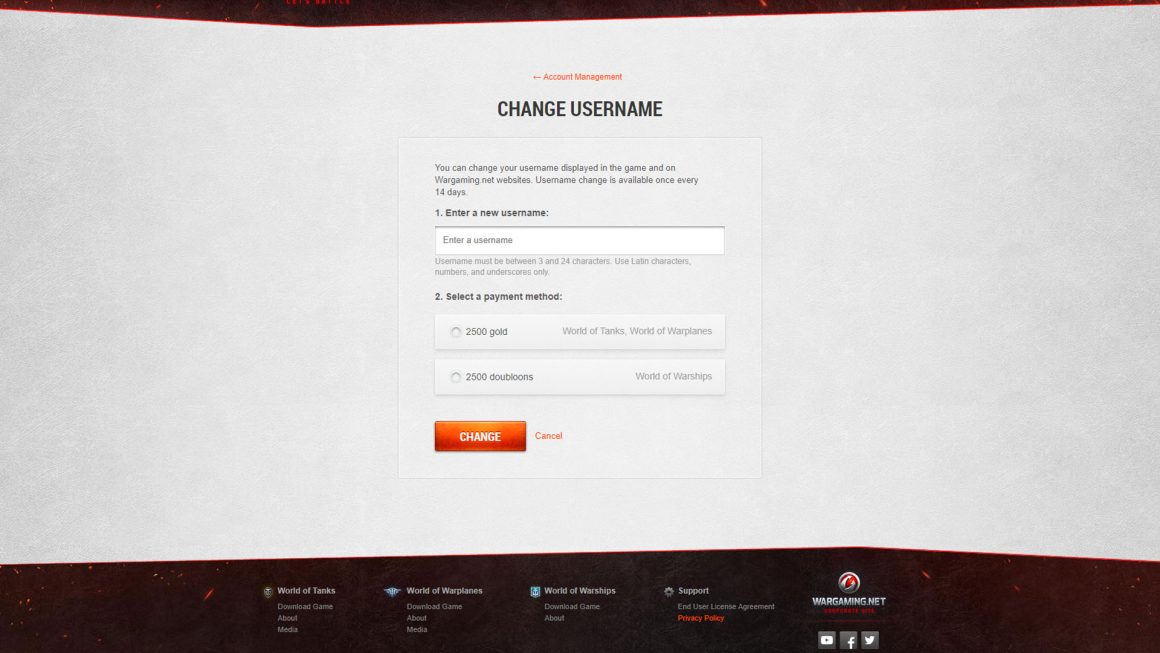 Keep in mind that usernames must be unique. If you try to change your username to one that's already in use, you'll be asked to use a different one.
Important things to know about usernames
Your username is tied to your Wargaming account, so you can pay with the premium currency of any Wargaming title. It will cost you 2,500 Gold (World of Tanks' currency) or 2,500 Dubloons (World of Warships' currency) every time you want to change your name.
You can change your username once every 14 days.
Changing your username will lock your old username for 30 days. If you want your old name back after the 14-day username change cooldown, you'll have to wait until the 30 days are up before you can switch back.
When a player requests their account be deleted, it takes 45 days for the process to complete, during which the name is technically still tied to the account and cannot be used by other players. After the 45-day process is done and the account has been deleted, the username remains locked for another 30 days.
What are the rules and costs to change your WoT username?
You can change your account username once every 14 days, and it can take up to 14 days for the username change to take effect.
It will cost you 2,500 Gold every time you want to change your username.
Things you aren't allowed to put in your WoT username
According to World of Tanks' official game rules documentation, some of the things not allowed in player usernames include:
profanity, even abbreviated;
insults, personal attacks, abuse, or harassment;
unprintable words or abbreviations;
copyrighted or registered trademark elements;
racist or nationalist implications that may offend certain groups;
allusions to racial or national supremacy, including discriminative propaganda;
insults or derogatory comments based on race, nationality, religion, culture, mental stature, sex, or sexual preference;
associations with sexuality, pedophilia, sexual abuse, and bodily functions;
nudity and sexually explicit material;
gore or violence;
references to addictive or illegal substances;
logotypes, symbols, or figures connected to other organizations;
potentially offensive references to mainstream religions;
connections with negative historical or political personalities;
negative portrayals of Wargaming staff or administration;
anything that violates the End User License Agreement or local laws.
That's quite a big list! But what it boils down to is: Don't be a jerk when choosing a username.
Special cases to get a free name change
In some special cases, you can change your name without having to pay the fee.
The first case is in case of a typo. Say you accidentally named yourself "Mister Seargent" when you meant to type "Master Seargent." You can submit a name change request to Wargaming for a chance to fix your mistype for free. This only works for new accounts and recently changed usernames (Wargaming isn't likely to believe that it took you three years to realize your account's username has a typo).
The second case is if your username is in violation of the game's rules.
At the end of the day, Player Support has the final say as to whether a username is a typo or a violation of the game rules. Disagree? You're free to submit a complaint via the Wargaming forums.
That's all you need to know about how to change your name in World of Tanks. The process is quick and simple, so long as you have the Gold to pay for it.
Who doesn't love free video games? We've got a list of the best free PC games to play in 2023, just for you.
They say war never changes, but some games simply do it better than others. Here are our picks for the best war games to play in 2023.