Raiding your rivals isn't the only way to gather the resources you'll need to level up in Coin Master. One of the best methods to quickly go up the ranks is to complete sets of Coin Master free cards. Every time you complete a card set, you get a huge reward bonus that will give a boost to your progress. Below, you'll find a few of the best ways to get the cards you need to complete your sets.
For a winning edge in Coin Master, don't miss these invaluable guides, covering everything from Coin Master free spins and Coin Master villages to Coin Master events, Coin Master chests, and Coin Master tips and tricks.
Trade your duplicate cards for chests
Sometimes you can spend entire days looking for that last card in your set only to wind up with tons of useless duplicates. But did you know that you can make these duplicates work to your advantage?
Coin Master allows players to trade in 75 of their cards in exchange for a Card Chest. 75 is quite the fee, but if you're a really card chaser, you'll likely have tons of unused cards just taking up space in your inventory. This method is too expensive and luck-based to be very reliable, but it at least gives you an extra chance to win the card you need.
Ask for cards from the community
With the help of Moon Active, you can exchange your unwanted cards for ones you need with the rest of the community in a safe and secure environment on Facebook. We highly recommend beginning here to really zone in on the cards you need for your collection.
This is the most straightforward way of getting the cards that you want. The Coin Master community on Facebook is huge, and there's a good chance you'll find someone willing to part with one of their duplicates if it'll help someone in need.
Take advantage of a Card Boom
Another super-easy way to gain new cards is take advantage of a running Card Boom. and buy a number of chests with your hard-earned money. Card Booms are a limited-time event where you can get 50% more cards from each chest you open during certain times of the year.
If a Card Boom event is approaching, it's a good idea to save any of your Card Chests until then. That way you'll reap the most benefits from the bonus event, increasing your odds of collecting the cards you need.
Buy Card Chests
Got some spare cash burning a hole in your pocket? You can always put it toward completing card sets by buying Card Chests.
As soon as you've completed improving your town and aren't able to pay any more, you should consider buying a few card chests with the money you've saved. If you're looking for a few additional cards, this is an excellent method to get your hands on them.
To get the most bang for your buck, you'll want to wait until a Card Boom.
Collect your daily rewards
You'll also get Coin Master free cards every day from Moon Active's daily links; collecting them every day will quickly fill your collection. The official Coin Master Facebook is page is always busy with official bonuses and rewards, so give them a follow and check out what bonuses they've got in store for you.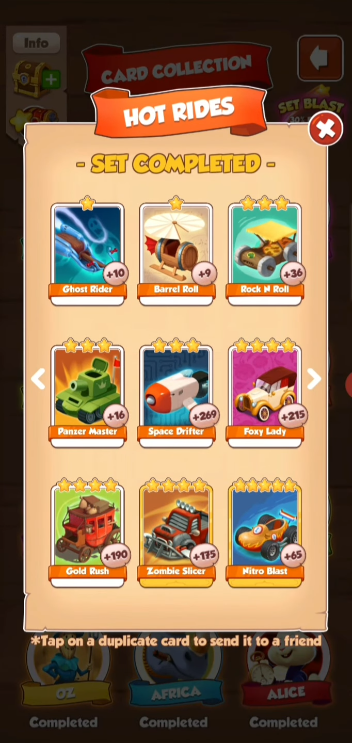 Completing card sets is one of the quickest and most satisfying ways to really make progress in Coin Master. Do the four things listed above regularly to complete your collections at record pace. If you're on the lookout for other awesome games to add to your collection, check out this list of the best mobile RPG games in 2023.
What are Coin Master free cards?
Coin Master free cards refer to cards that can be obtained for free in the game Coin Master.
How can I get Coin Master free cards?
There are several ways to get Coin Master free cards, such as by completing events, opening chests, participating in offers, or trading with other players. You can also receive free cards from friends who send them to you.
Are Coin Master free cards real?
Yes, Coin Master free cards are real and can be used to complete sets and earn rewards in the game.
Are there any risks associated with getting Coin Master free cards?
Yes, there are risks associated with getting Coin Master free cards. Never trade with a player you don't know. Be sure to only obtain free cards from legitimate sources, such as the game itself or trusted trading groups.
Is it possible to get unlimited Coin Master free cards?
Yes, you can collect as many free cards as you want. Certain events will only give you a free card once. There is no use to having more than one of the same card. Consider trading your duplicate cards to complete sets.
How many Coin Master free cards can I get?
There is no limit to how many Coin Master free cards you can have in your inventory. However, certain events will only give you a free card once. Consider trading your duplicates for cards that you need to complete sets.