It's incredible to think that a little plumber in red overalls would climb the ranks as one of the most popular characters in fiction and the games associated with him would become one of the largest gaming franchises in history. Such a simple concept, yet so eternal. Mario has been around since 1981 when he first appeared in Donkey Kong, and has since spawned hundreds of games within the Super Mario franchise, with one branch of it being the Mario Kart series. The series has fourteen games and we're going to be taking look at them and present you with some Mario Kart statistics to see the series' beginnings, current status, as well as the trajectory it is on for the future. There is a lot to cover so we better get to it. Oh, by the way, if you're interested in these sorts of topics, we can tell you exactly how big the gaming industry is!
Mario Kart key stats
For this section, we'll be listing the most important information for the Mario Kart series in general going from the total number of games sold to revenue. Then anything and everything else we can think of that is relevant to this legendary series. We're glad to be able to give you this information because Super Mario and Mario Kart are among the cornerstones of the gaming industry and there is no telling where it would be today if these games didn't reach the height of popularity as well as they did.
The Mario Kart series has sold over 173 million copies.
(Source: Nintendo)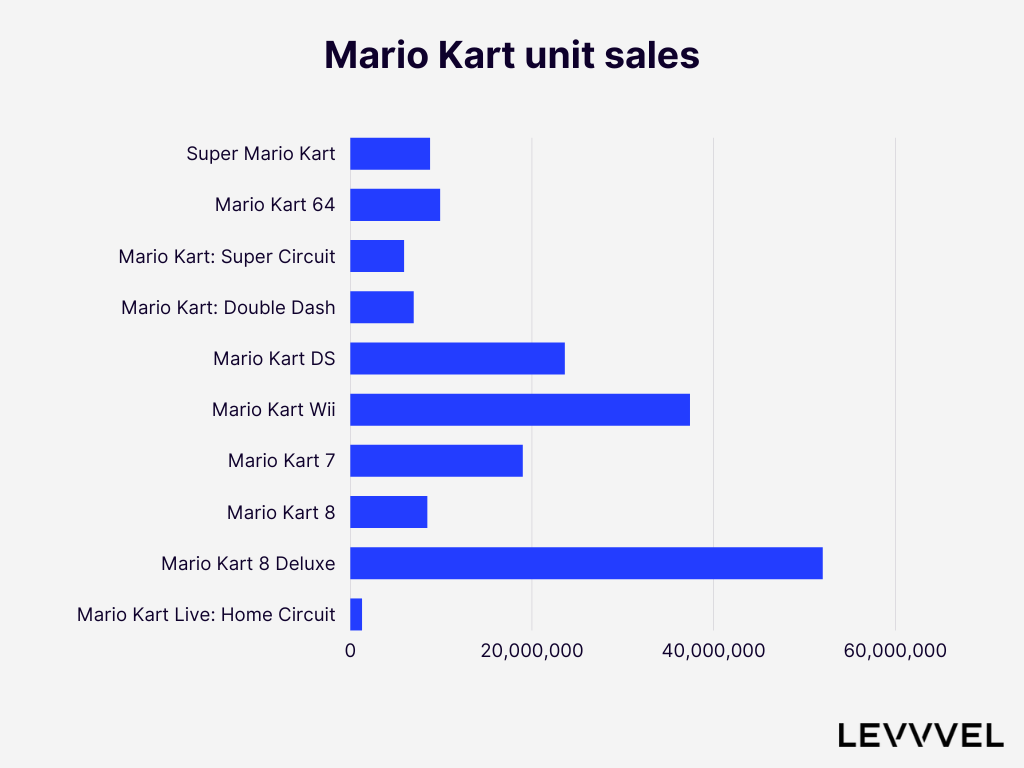 | Game | Year | Copies sold |
| --- | --- | --- |
| Super Mario Kart | 1992 | 8,760,000 |
| Mario Kart 64 | 1996 | 9,870,000 |
| Mario Kart: Super Circuit | 2001 | 5,900,000 |
| Mario Kart: Double Dash | 2003 | 6,960,000 |
| Mario Kart DS | 2005 | 23,600,000 |
| Mario Kart Wii | 2008 | 37,380,000 |
| Mario Kart 7 | 2011 | 18,970,000 |
| Mario Kart 8 | 2014 | 8,460,000 |
| Mario Kart 8 Deluxe | 2017 | 53,790,000 |
| Mario Kart Live: Home Circuit | 2020 | 1,270,000 |
Based on the table of Mario Kart games and their respective sales figures, it's clear that the franchise has been a huge success for Nintendo. The two games with the highest sales figures are Mario Kart Wii and Mario Kart 8 Deluxe, which sold 37.38 million and 52 million units, respectively. These high sales figures demonstrate the enduring popularity of the Mario Kart franchise and its ability to continue to attract new players and fans.
Mario Kart DS also had a significant impact on the franchise, selling 23.60 million units and becoming one of the best-selling games on the Nintendo DS platform. Meanwhile, Mario Kart 7 and Mario Kart 8 had more modest sales figures, with 18.97 million and 8.46 million units sold, respectively.
It's also notable that the original Super Mario Kart and Mario Kart 64 have sold well, with 8.76 million and 9.87 million units sold, respectively. These early games in the series helped lay the foundation for the franchise's ongoing success and continue to be beloved by fans.
Overall, the Mario Kart series has been a major contributor to Nintendo's financial success and continues to be a widely-played and highly-regarded game by millions of fans worldwide.
Mario Kart 8 is the 6th-best-selling game of all time with over 60 million copies worldwide.
(Sources: Nintendo)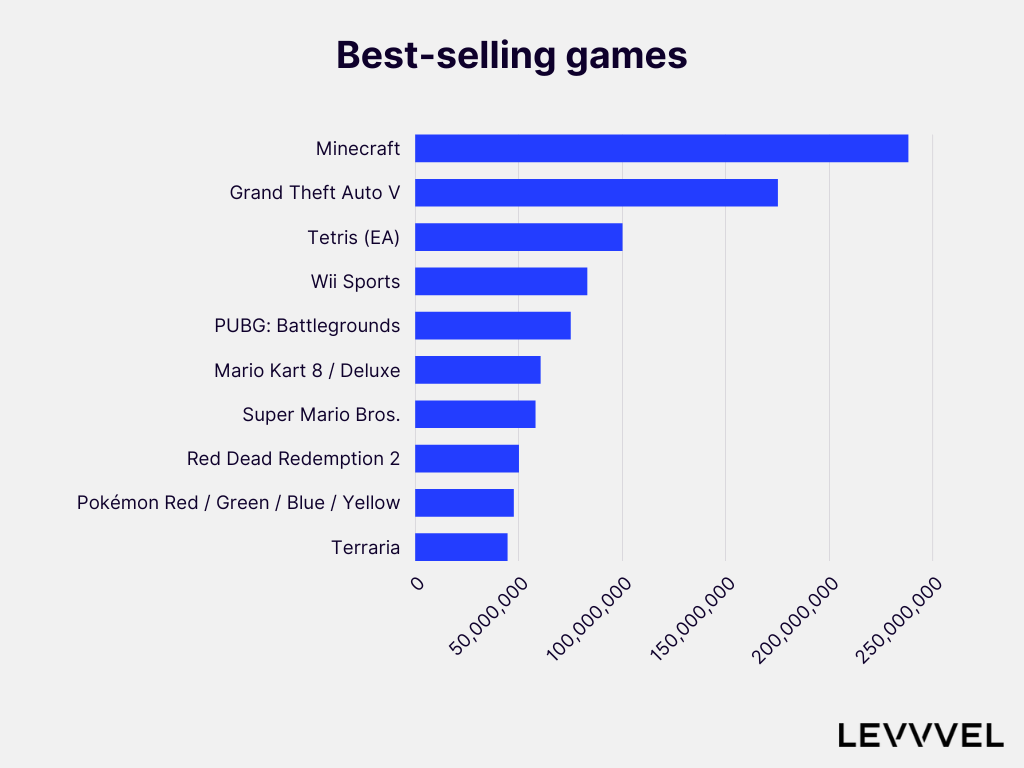 | Game | Copies sold |
| --- | --- |
| Minecraft | 238,000,000 |
| Grand Theft Auto V | 175,000,000 |
| Tetris (EA) | 100,000,000 |
| Wii Sports | 83,000,000 |
| PUBG: Battlegrounds | 75,000,000 |
| Mario Kart 8 / Deluxe | 60,460,000 |
| Super Mario Bros. | 58,000,000 |
| Red Dead Redemption 2 | 50,000,000 |
| Pokémon Red / Green / Blue / Yellow | 47,520,000 |
| Terraria | 44,500,000 |
Mario Kart 8 Deluxe has achieved a remarkable milestone with 43.3 million sales on the Nintendo Switch and the rest on the Wii U. This makes Mario Kart 8 Deluxe the best-selling Nintendo Switch game of all time. The game has also performed exceptionally well in Japan, with 5 million copies shipped in the region alone. With the continued popularity of the Nintendo Switch and the longevity of the Mario Kart franchise, it is possible that Mario Kart 8 Deluxe could break into the top 5 most sold games in the future.
Mario Kart 8 was a massively popular game when it first came out for the Wii, but when it was re-released to the Nintendo Switch, that really tipped the scales in Nintendo's favor as the game became the best-selling Mario Kart game as well as the best-selling Nintendo Switch game of all time. It has also climbed the ranks when it comes to the highest-selling games of all time, and as time goes on, it might even rise higher than the #6 position.
The Mario Kart series has generated $6.8 billion in revenue.
(Source: VG Sales)
Mario Kart 8 Deluxe generated $2 billion in revenue.
Mario Kart Wii generated $1.4 billion.
Mario Kart DS generated $925.6 million.
Mario Kart 7 generated $783.4 million.
Mario Kart 64 generated $670.2 million.
Super Mario Kart generated $670.2 million.
Mario Kart 8 generated $506.9 million.
Since Mario Kart 8 Deluxe has two releases and the second one is immensely popular, it is no surprise that these games have generated the most revenue. What is important to note here is that the entire Mario Kart series has generated over $6.8 billion in revenue, which is an astronomical number for any franchise to aim for, and $2 billion for a single game is just unbelievable.
Mario Kart Tour has over 200 million downloads on the Play Store.
(Sources: Sensor Tower, Nintendo Life, Games Industry)
It has accumulated over $293 million in consumer revenue.
It was the second-highest-selling Nintendo mobile game on the Play Store in 2021, falling behind Fire Emblem Heroes.
The game was downloaded 10 million times on its first day.
It took the game 11 days to race past 100 million downloads.
The same period yielded $17.8 million in consumer revenue.
The game generated $100 million within its first six months.
This was made possible by a Gold subscription which costs $4.99.
What better place to start than one of the most popular mobile games you can play — Mario Kart Tour? This is a fantastic game because you can play it for free and live out everything that the Mario Kart series has to offer. Since it was added to the Play Store in 2019, Mario Kart Tour has swept the mobile gaming industry off its feet, amassing hundreds of millions of downloads and unimaginable amounts of revenue. This game was a massive success
Mario Kart Tour had the fast mobile game launch ever with over 90 million sales in its first week.
(Sources: iMore, Dexerto)
The same period yielded $12 million in revenue.
The game's revenue was generated by gacha mechanics. Otherwise, the game is completely free-to-play.
The gacha mechanics used to generate profits were so successful that Nintendo removed them.
Nintendo replaced the gacha mechanics with a Spotlight Store that gave players the option of just purchasing the items that they wanted.
The success of Mario Kart Tour was incredible, so much so that Nintendo actually had to remove the gacha mechanics that yielded so much profit. 90 million downloads and $12 million in revenue is nothing to scoff at, and we are sure that the game is going to continue to grow over time as more content is added to the game and as more fans come into the Mario Kart fanbase.
Toyota is gifting SUV buyers a Nintendo Switch and Mario Kart 8 Deluxe for every purchase.
(Source: GameRant)
The vehicle in question is the Toyota Grand Highlander 2024.
This is a very unusual partnership between the two companies, and it's not the first time.
Nintendo partnered with Mercedes in 2014 to promote three of their new vehicles similarly.
The main ideas that both of the companies want to show are the family motives portrayed by SUVs and the Nintendo Switch as a console.
Now, this is something that no one was expecting. Game developers will often work together with other companies to secure more exposure and popularity, but when you think of Super Mario of all things, Toyota is not the first thing that comes to mind. However, it makes sense when you think about it since the Nintendo Switch is something that kids can immensely enjoy, and the Toyota SUV is intended for family use.
Mario Kart 8 Deluxe will get multiple waves of DLCs featuring dozens of new tracks.
(Source: GameRant, Nintendo Everything)
Many tracks from the older games will be released in the coming DLCs.
The first three waves of the DLC expansion added 24 new tracks.
There should be six DLC waves in total, with wave 4 adding Birdo as a returning character.
There isn't much to say about this line of stats since it just pertains to some additional content that is supposed to be added to Mario Kart 8 Deluxe in the future, but what we can say about this is that it is a very smart move from Nintendo because remastering old fan-favorite tracks is a great way of making players feel nostalgic and increasing their appeal for the game. There is a lot of content to be added in this DLC, and if the rumors and predictions are to be trusted, the DLC should total approximately 48 tracks.
To sum up
Alright, that's all we have to say about this iconic series and everything it has done for the gaming community over the years. Racing games are extremely successful most of the time because of their replayability and the excitement that they produce. When you couple a popular genre with an even more popular character, you get something that is simply unforgettable and bound to be popular for decades. The Mario Kart series is a titan within the gaming industry and we cannot wait to see how the series progresses in the future. This is the end of our prix, so we hope that you are satisfied with the information presented here and that you have learned something new!
Sources
"Mario Kart Tour Surpasses 200 Million Downloads and $200 Million in Lifetime Revenue". SensorTower, 2021, https://sensortower.com/blog/mario-kart-tour-200-million-downloads
"Mario Kart Tour For Mobile Has Now Made Close To $300 Million In Revenue". Nintendo Life, 2022, https://www.nintendolife.com/news/2022/09/mario-kart-tour-for-mobile-has-now-made-close-to-usd300-million-in-revenue
"Mario Kart 8 has officially sold 50 million copies". KitGuru, 2022, https://www.kitguru.net/gaming/mustafa-mahmoud/mario-kart-8-has-officially-sold-50-million-copies/
"Mario Kart 8 Deluxe Has Surpassed 5 Million Lifetime Sales In Japan". DualShockers, 2022, https://www.dualshockers.com/mario-kart-8-deluxe-5-million-sales-japan/
"Mario Kart Tour downloaded over 10m times globally in its first day". Games Industry, 2019, https://www.gamesindustry.biz/mario-kart-tour-downloaded-over-10m-times-globally-in-its-first-day
"Mario Kart Tour is fastest ever mobile game launch, 90 million downloads in first week". iMore, 2019, https://www.imore.com/mario-kart-tour-fastest-ever-mobile-game-launch-90-million-downloads-first-week
"Mario Kart Tour made so much money it doesn't need loot boxes anymore". Dexerto, 2022, https://www.dexerto.com/gaming/mario-kart-tour-loot-boxes-remove-nintendo-1924243/
"Mario Kart". VG Sales, 2023, https://vgsales.fandom.com/wiki/Mario_Kart
"Mario Kart 8 Deluxe Adding Birdo and New Courses With Booster Course Pass Wave 4 DLC". GameRant, 2023, https://gamerant.com/mario-kart-8-deluxe-booster-course-pass-wave-4-dlc-tracks-birdo/
"Guide: Mario Kart 8 Deluxe Booster Course Pass DLC release dates, tracks". Nintendo Everything, 2023, https://nintendoeverything.com/guide-mario-kart-8-deluxe-booster-course-pass-dlc-release-dates-tracks/
"Sales Data – Top Selling Title Sales Units – Wii U Software". Nintendo. 2022. https://www.nintendo.co.jp/ir/en/finance/software/wiiu.html
"Sales Data – Top Selling Title Sales Units". Nintendo. 2022. https://www.nintendo.co.jp/ir/en/finance/software/index.html