While building is an integral part of Minecraft, you cannot sleep on interior decorations that make your bases into homes and makes them look appealing and interesting. Decorations can vary from simple wall art to full-blown custom appliances that really tie a room together.
To help you make all of your rooms look better from now on, we have prepared this list of the best Minecraft decoration ideas. Each of these designs is very simple and can be built in no time.
We love everything about Minecraft and we know that you must be an avid fan of it as well, so we also recommend that you check out some of the best Minecraft underwater bases, as well as the best Minecraft Fabric mods!
Benches
Benches can be a great addition to your houses if you plan to add other people into the mix. These benches are very simple and work very well when you add a little table in between them along with some plants. We highly recommend you take a look at this design if you want to upgrade your house without going crazy.
Hanging lanterns
Here we have a decoration design that can add a decent bit of ambiance to wherever you want to place them. Have a Halloween party and don't know how to incorporate a light source that is both functional and spooky, check these out! Even though these lanterns are very simple, that doesn't mean that they aren't among the best Minecraft decoration ideas!
Flower exhibit
Alright, now we have a decoration design that you can put anywhere. Whether it's on a wall, in your garden, or just around your house in general, this flower exhibit is both fun and interesting. It features a "window" made of Cobblestone and wood on which many different types of flowers are strewn. Pick your favorite flowers and make our house prettier!
Hydro tower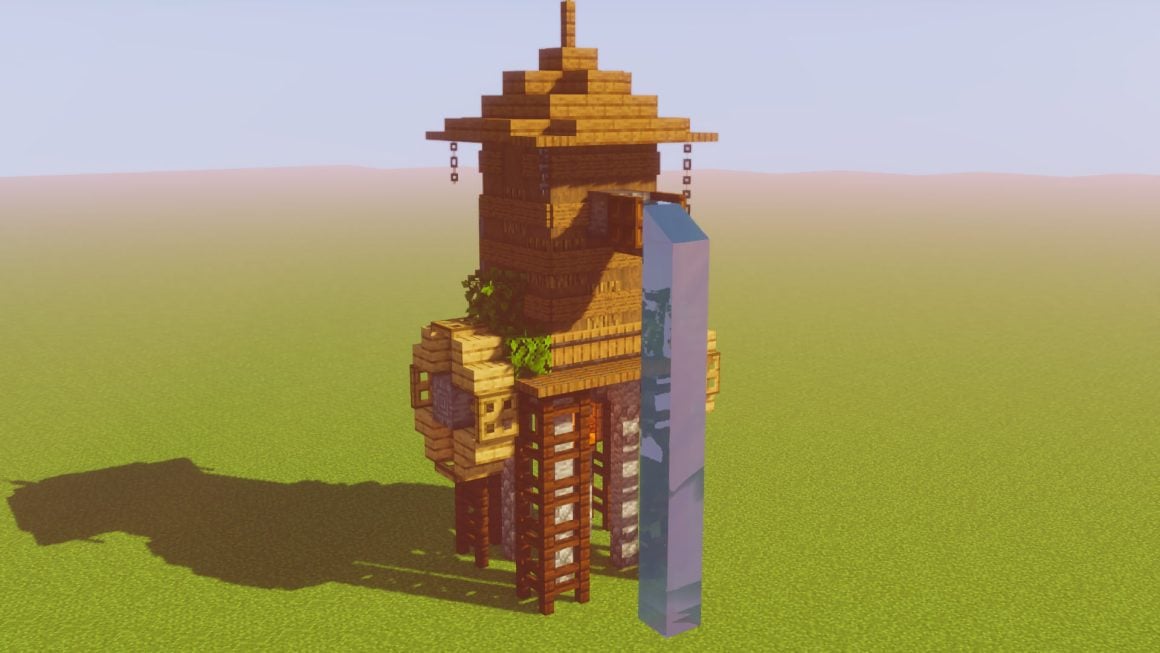 If you have a plan to build a rustic village in your world and need some filler decorations to make it look more populated, you should include this tower into the mix. It is a fairly tall tower that has a water wheel on the side of it with water spewing out the side for added effect. Overall, one of the best Minecraft decoration ideas and something you should definitely try out!
Television
The next decoration we have is perfect if you plan to add it to your bedroom or living room. It is a large flat-screen TV that fits well on any wall and looks awesome. Of course, the TV doesn't work, but you don't need that kind of negativity in your life. Try out this design if you have a modern house or a modern bedroom.
Luxury pool
Since we've just mentioned modernity and modern houses, we also have a nice outside addition to your house — a pool with a gazebo next to it. The pool is decently-sized and can accommodate multiple people, so it's ideal if you want to add it to your server so everyone can enjoy it!
Bridge
Moving on, we now have a design that is great when you have some rivers near your home and you don't want to resort to single-block bridges. This bridge isn't the Golden Gate, but it is just enough for you to cross the river and appreciate the way it looks at the same time.
Aquarium
Aquariums are always awesome whether they're at the zoo or just inside your house, and the purpose of this design is to showcase that. It can fit into most rooms nicely, even acting as a wall in some cases. It is presented with a good bit of light at the top of the aquarium so you can see inside properly, and it's just a very nice thing to look at.
Flying lanterns
We've mentioned hanging lanterns already, but these are flying lanterns. They are colorful and look super fun to build, and if you space them out properly, you can make your house look like an anime spirit festival. If you have some festivals or special activities on your server, you should consider this idea to improve the ambiance!
Bamboo decorations
And finally, we have some interesting bamboo decorations that you can easily add to your house for some added ambiance and color. There are a few different decorations here and most of them would fit very well in some white modern rooms that need more color and vibrance in them. Overall, one of the best Minecraft decoration ideas because of its simplicity.
Everything we've mentioned so far is a completely unique design that can easily be added to any base, no matter the style. We sincerely hope that you have enjoyed this and if you want some more games to play, check out the best tank games, best cross-platform games, and the best naval games!