Purchases through our links may earn LEVVVEL a commission.
World of Warships has servers around the world to make sure players enjoy stable, low-latency gaming no matter where they are. When first creating an account, you're asked to choose a regional server. Once you've picked a server, World of Warships does not allow you to join matches in other regions.
This policy sounds harsh, but there's a good reason for it. Wargaming doesn't want players moving freely between servers, as it would reduce the quality of games (imagine if half your team had terrible ping!). However, there are valid reasons for wanting to switch servers. For example, if you're going to be working overseas for an extended period of time, you don't want to make a new account and start from scratch.
If you've moved locations and want to use your World of Warships account in a new region, we've got your back. In this guide, we'll walk you through how to change servers in World of Warships, step by step.
Don't sail the high seas without a few Doubloons in your chest. Snag some with our list of the latest World of Warships codes for 2023.
How to change servers in World of Warships
Previously, Wargaming would occasionally lift the server change ban for short periods of time. As of April 2022, players can request to transfer their World of Warships progress to a new account at any time. However, not every account is eligible for transfer.
Unfortunately, as of October 2022, you can no longer transfer accounts in World of Warships. According to the developer's official website, account transfers will remain closed for an indefinite period of time. Russian players who wish to transfer a NA, EU, or APAC account to the Russian regional servers will still be allowed to do so.
Rules and requirements for changing servers
There are some specifics you should know before trying to change servers in World of Warships.
Transfers can only be performed for World of Warships
Only active Wargaming accounts that are not banned can be transferred.
The account you are transferring from must be linked to a Wargaming.net ID.
The account you are transferring to must be created using Wargaming Game Center.
You will not be able to log into your new account from platforms other than Wargaming Game Center (e.g., Steam, Epic Game Store, Microsoft Store).
After transferring, you will not be able to play World of Warships with your old account. You can still use your old account to play other Wargaming titles.
You can only change servers once per year.
Keep in mind that transferring your World of Warships account does not change the regional server tied to your current account. The transfer process moves your progress to a new account then deletes the old account.
Guide to changing servers in World of Warships
To transfer your account, submit a transfer request via Wargaming's official support page. This will bring up the following page:
Under "What kind of issue do you have?", choose "Account," then click "Continue":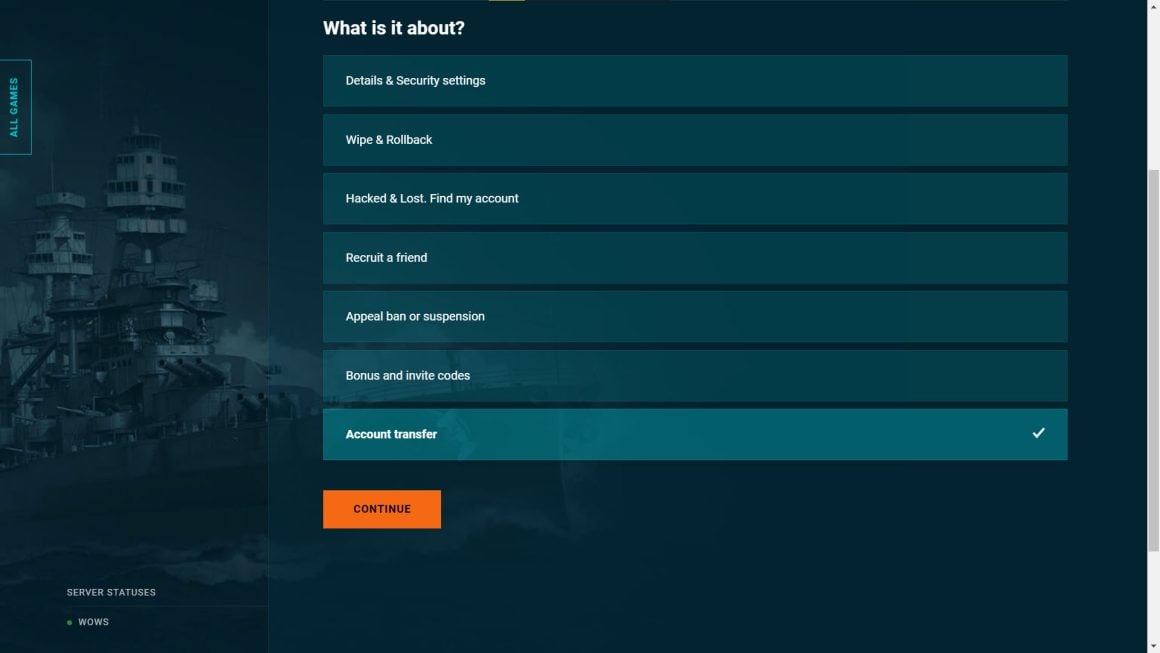 Under "What is it about?" choose "Account transfer," then click continue.
This will submit a transfer request to Wargaming's support team. It may take some time for a support team member to get back to you. In the meantime, prepare any documentation, photographs, or identification as proof of your location.
After you've been contacted by a member of the support team, follow any instructions they give you and provide any relevant information when asked.
What gets transferred?
Not everything from your old account can be transferred to your new one. Here's a table listing all the things that can and cannot be transferred to your new account:
Transferred
Ships and modules
XP earned
Stats and achievements
Time left in Premium Account
Commanders with skill points and XP
Emblems, patches, backgrounds
All upgrades
Commemorative and signal flags
Dockyard progress
All in-game currencies
Tokens
Daily mission progress
Armory coupons
Containers
Clan, Inventory, Clan Leader role
Collections
Not Transferred
Nickname
Region-specific content
Premium Account subscription
Bundle progress
Contacts info (friends list, blacklist, saved channels)
Premium shop coupons
Linked phone number
Connected payment methods
I've changed my mind! How do I cancel a transfer?
If you decide you'd rather stick with your old account, you have up to 7 days to cancel an account transfer. This deletes the new account and reactivates your old account. Note that any experience points or items earned while using the new account will not be transferred to the old account.
To cancel a transfer, submit a support ticket from the official Wargaming website's support section.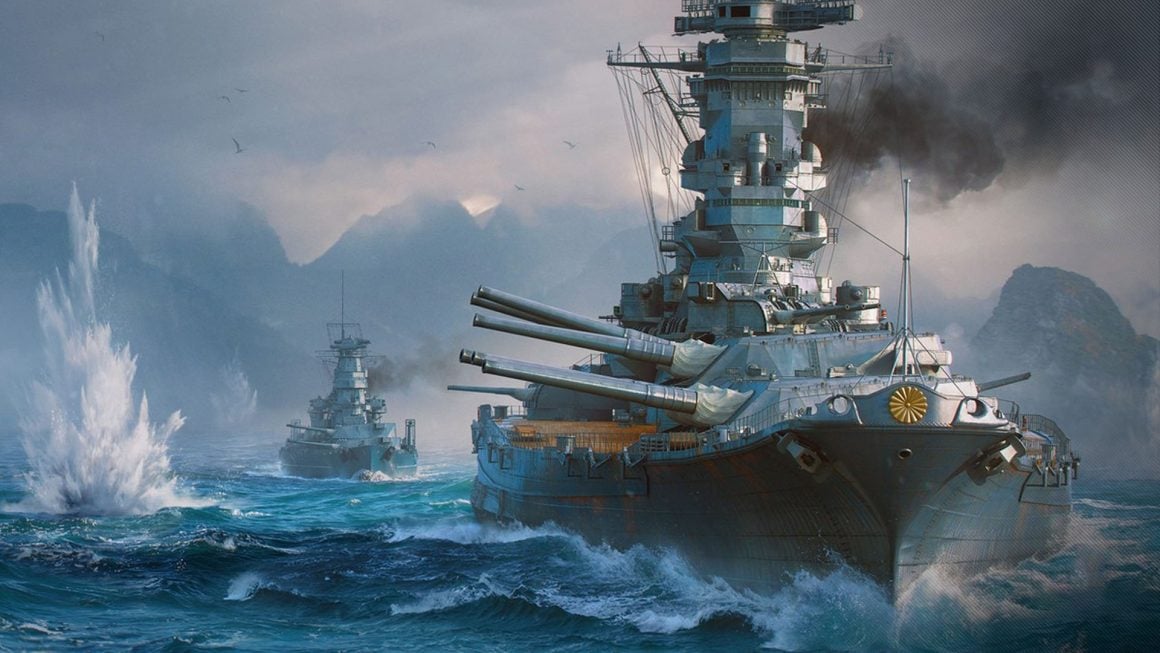 That's everything you need to know on how to change servers in World of Warships. Wargaming's policy on account transfers has changed several times in the past, but the procedure for changing servers remains the same.
Smell the salt and gun powder with this incredible list of the best naval games.
Love a good deal? There's no lower price than free! Dive into awesome gaming experiences without spending a cent with this list of the best free PC games.