Minecraft is a sandbox with infinite possibilities and the huge number of things to do can get frustrating. In a world where you can create pretty much everything, you can run out of creativity every once in a while. After a certain amount of time, you will notice that you're already done most of the things you set out to do, but your house can use some improvements.
To help you get out of your creative funk, or to help you get started in a new world, we have prepared some of the best Minecraft house ideas that you can take and put your own spin on and add to your world. These designs are relatively simple and well within the capabilities of anyone to build.
If you are a hardcore fan of Minecraft and want to know more about its servers, check out our best Minecraft Bedrock servers article. And for those fans of modding, we even have a best Minecraft gun mods article.
1. Simple wooden house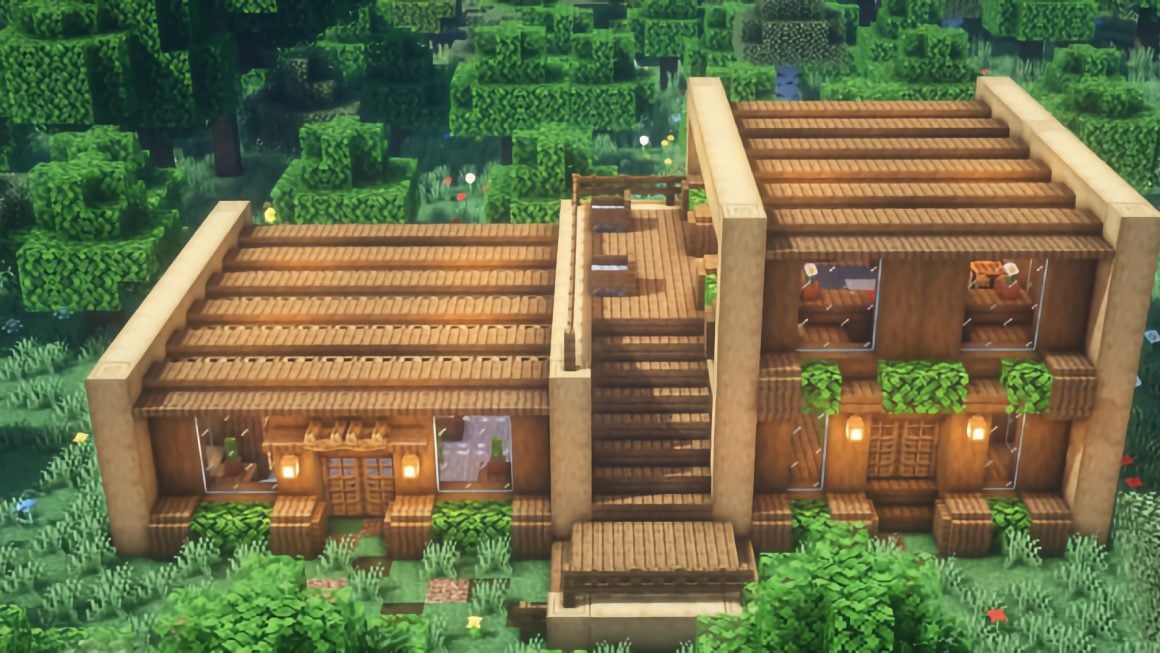 Let's start simple. This house designed by Folli is excellent for players that do not like to take on complex builds and prefer to focus on other aspects of Minecraft.
While there are a lot of decorations, that does not mean that the general design of the house is complex. It has all of the basic features that you could want, like a living room, a kitchen, a bedroom, and more than enough storage.
2. Ravine house
This is one of the most popular Minecraft house ideas simply because it is meant to be built on very specific terrain that usually isn't used most efficiently. When you build the ravine house, you can dedicate it to storing all of your resources and treasure so it's much easier than jumping down all the time and risking death.
The design is quite straightforward and it doesn't take a long time to build, provided you have all of the blocks you need to build it. Aside from that, it is one of the simplest designs on this list.
3. Mountainside castle house
We have talked a lot about wood, so let's change it up a little and look at BigTonyMc's mountainside castle house. The outside structure is made completely of cobblestone with some details made of polished blackstone, for a darker tone. It is very visually appealing and makes coming back home after a long day of exploring much more satisfying.
Inside, you can find a courtyard and the main living room. Numerous other rooms make this place home, all of which can be customized as soon as you finish building it.
4. Big starter house
When you are looking for the best Minecraft house ideas, it can't hurt to be a bit ambitious. This starter house, while a bit more complex than other entries here, is quite simple to make since there aren't any complicated sections in the plan. It's a large house that has a modern feel to it and is very welcoming when you know it's yours. You can omit or add any features as you wish since it's your world, and you're the boss.
5. Mountain house
We are sure this happens to everyone. When you just start playing the game, you will probably spend your first night hidden in a random hole in the wall or the ground, counting away the seconds until morning.
This mountain house takes this concept and applies it to large-scale building. Not only is it gorgeous from the outside, but on the inside you can appreciate the little details that make this house outstanding. You can customize the inside however you might want, either keeping everything simple or going for the extravagant look, it's all in your hands.
6. XL base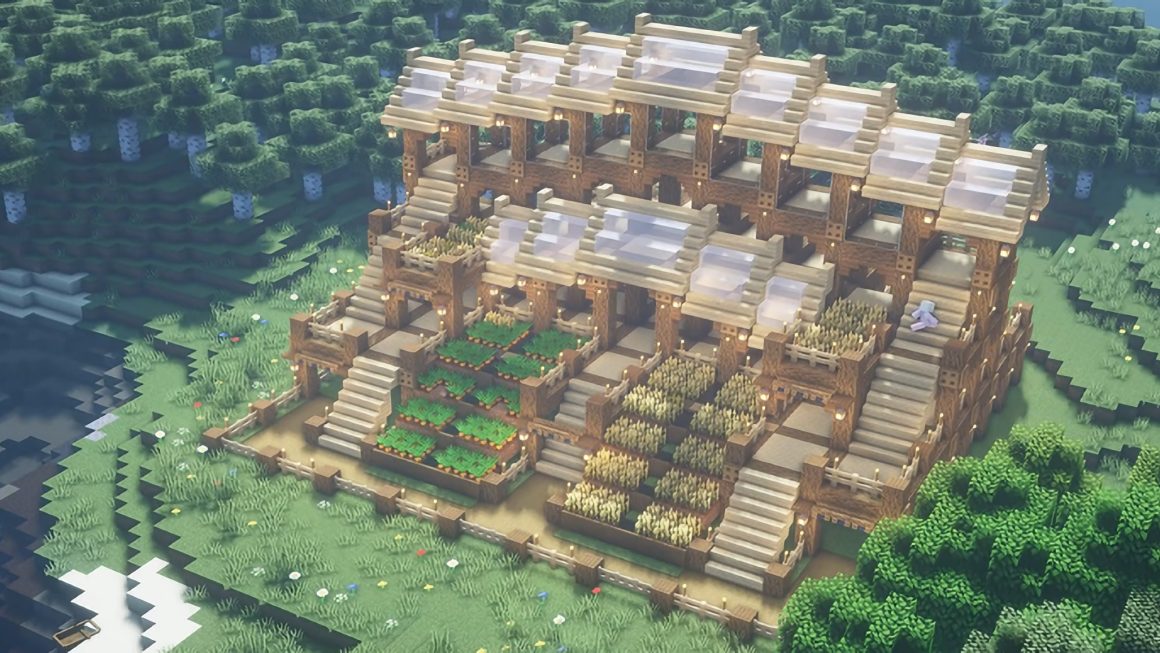 Another fantastic creation by JUNS MAB, this one is more centered on farming and gardening. As you can see in the front, you have planted crops that serve as your primary source of food.
This is great for those tired of having to go hunting for some cocked chicken. Instead, you will have a supply of any crop you want to grow at your disposal. The only tricky thing about this house is finding the seeds you need in the wild. While this structure is one of the largest, the materials needed are mostly just wood and dirt, so building it should not be a problem.
7. Beach house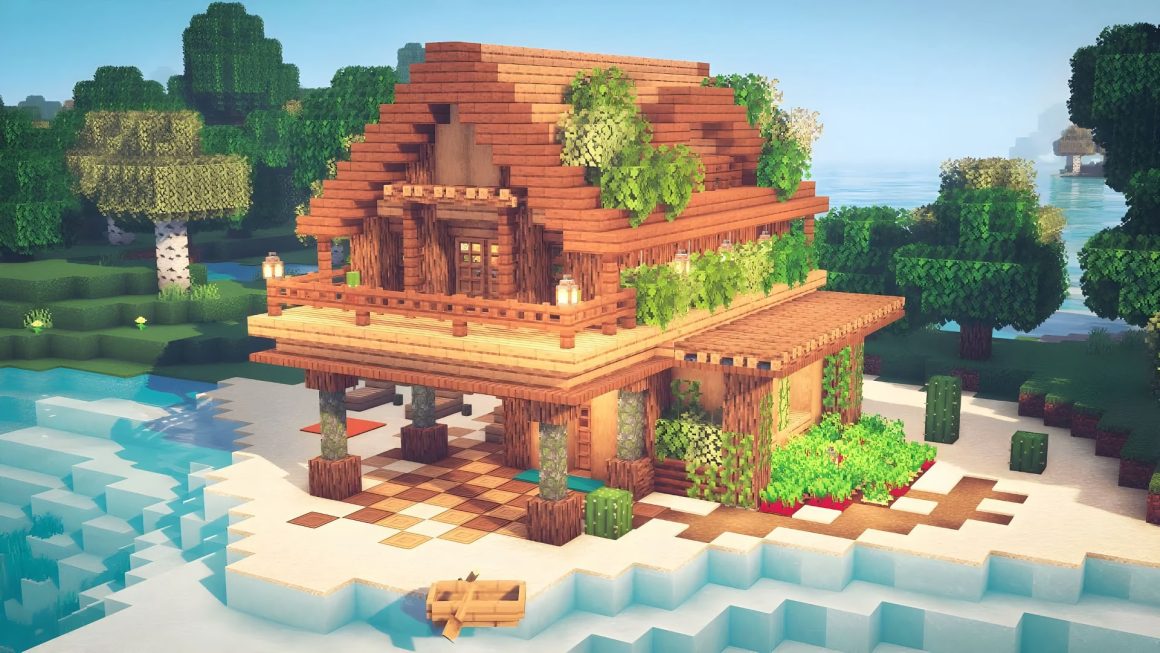 Many of us love to fish and swim, especially if we have some brilliant shaders or mods for the water. If this sounds like you, you will love Zaypixel's beach house. Chill little houses like these are what we often look for in the best Minecraft house ideas.
Your first requirement will always find a beach or river to build it on. After that, the rest is simple, a ton of wood, cobblestone, and some mossy cobblestone wall for a little special touch on the pillars of the front. Players usually use the beach house for fishing or as an outpost between bases.
8. Grand mansion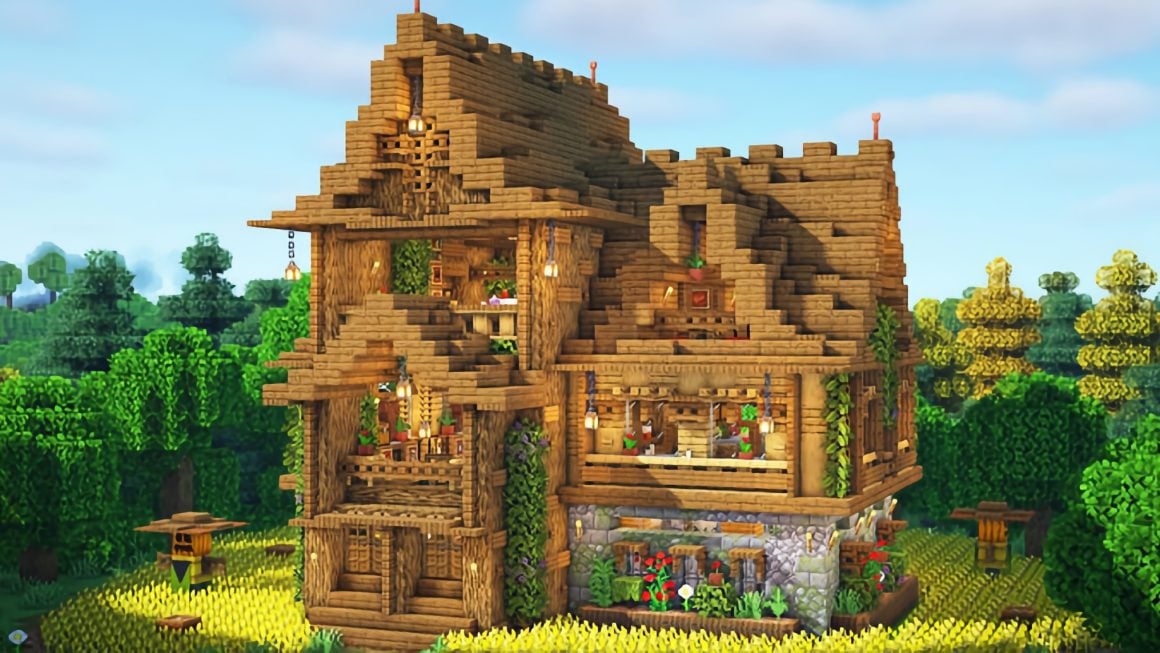 Another big-scale construction. Some of the best Minecraft house ideas have a decent bit of complexity to them. Here the focus is luxury and comfort rather than efficiency or functionality. The mansion features multiple floors, each with specific themes such as the armory, where you can find a map in the center to help get around in your adventures, as well as your armor and weapons. Your living room and some storage unit for all your items are on the top floor.
9. Farmhouse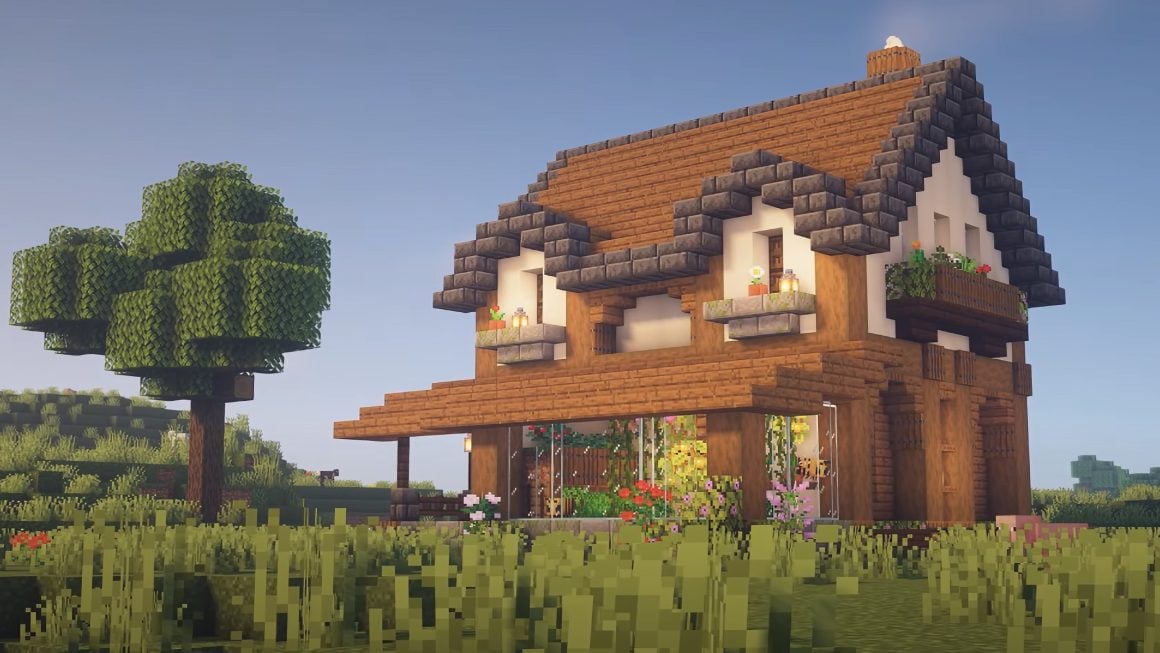 This creation of Zaypixel comes with a beautiful garden inside the house for those who love collecting flowers and growing pumpkins. There is even room to get bee honeycombs and start raising them to produce honey. All of your flowers can help with that. The whole vibe that this house exudes is relaxation and color, ideal for players that want a casual experience.
10. Large farmhouse
Now, if you want to go all-in on the farming side of Minecraft, this is your house. A fully functional farmhouse. Equipped with all of that you would need in a real survival game. It is fully equipped with all of the storage you could want, space for your animals, and some elevated areas for farms to produce your food. Minecraft house ideas should always have some functionality to them.
11. Simple underground base
You don't need to be by the river or on a mountain to enjoy a magnificent house. Some of them, as Folli shows, can be underground and just as gorgeous. The base is fully optimized for survival mode, meaning you don't need that many materials to build it.
This underground base has all the basics any adventurer needs for a quick base that still maintains some style and functions.
12. Ultimate underground base
Now, since we are on the topic of underground bases that fall under the best Minecraft house ideas, we have a massive underground base design that takes into consideration everything you need to survive in this game. It is divided into five sections, each of which is focused on different aspects of survival. To top it all off, you have a glass ceiling so you can enjoy the stars at night!
13. Ultimate survival tower base
ItsMarloe likes large-scale construction. In his tutorial he shows us all the advantages of having a tall tower for survival in Minecraft.
As we can see, on the exterior part of the house, there's a farming field. Just so you never run out of food sources. Now, inside, we have up to eight floors, all with their unique purposes. First floor furnaces. Second crafting, third provides storage. There is a living room on the top of the tower, with a particular room with a portal for quick access to the Nether.
14. Medieval house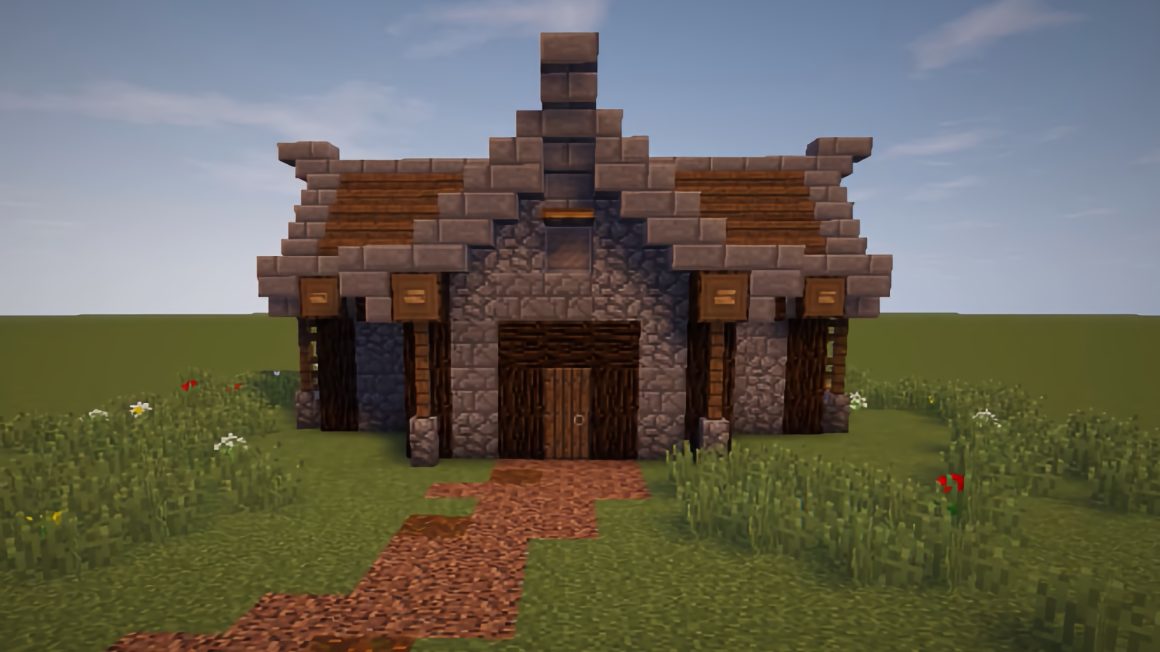 Moving on, we have one of the best Minecraft house ideas with a straightforward design. This is quite a simple house with some medieval tones that make it stand out from ordinary homes. On the back, there is a little garden with some decorative flowers. And on the inside, we can customize it as we want. It's really all you could as for in a house if you're a beginner.
15. Treehouse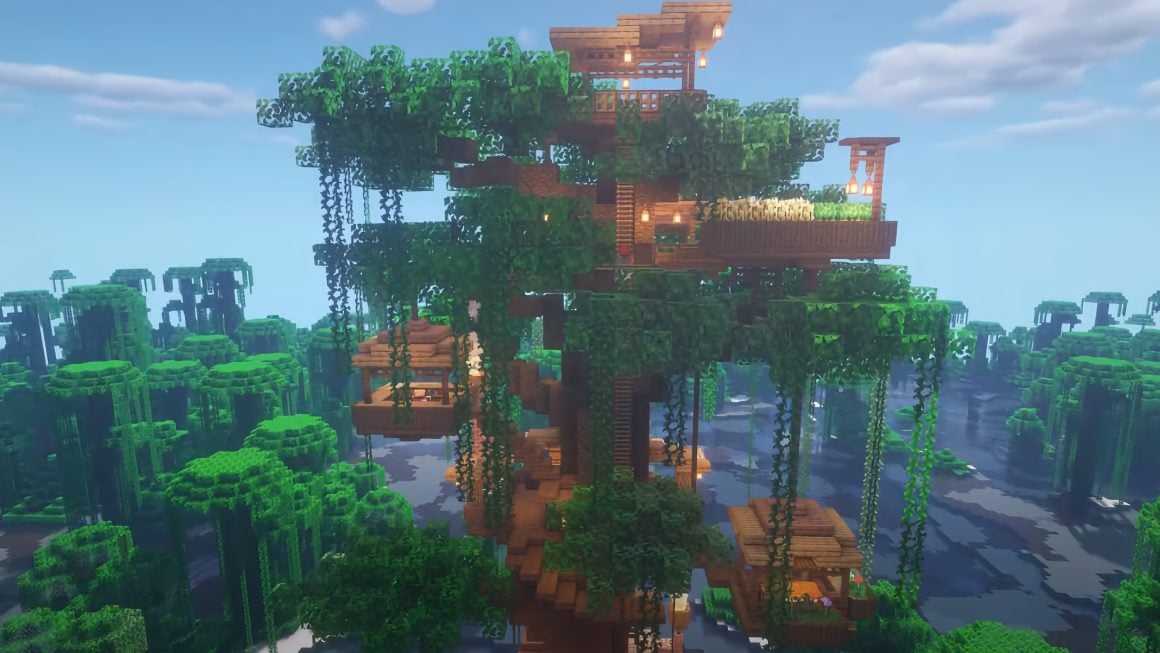 Changing the biomes a little, here is one for the jungle. Even if you're a beginner, you can and should try to build this house because the whole process is just stacking more things on the largest tree you can find, as you can see in DiddiHD's treehouse.
The structure is complex and can take you quite a while to complete since it has a lot of detail. But it is worth it for those who dream of having a treehouse. You can always build a small house next to this project while you work towards its completion.
16. Modern treehouse
If you like treehouses, here's another one. This is a modernized version of a classic Minecraft treehouse that also comes with an elevator.
Yes, an elevator. With some Redstone, dispensers, and obsidian, you can take care of all the hassle of climbing a giant tree every time you want to sleep. It's a revolutionary design that is great whenever you want to add more accessibility to your other builds.
17. Small wooden house
Another outstanding creation of JUNS MAB. Here we have a wooden house, similar to our first example, but this time with a more spacious ceiling and even a second floor.
This design also features some neat tricks with some of the wood. JUNS burns some planks and then puts them out with water potions. This makes the wood charred and gives it a nice old-timey look. While it isn't the biggest of the Minecraft house ideas, it's charming and quite beginner-friendly.
18. Modern wooden house
Just as we had a classic treehouse, then a modern one, we also have a modern take on the simple wooden house. The design is creative and sleek, which makes it appealing, and building it isn't as much trouble simply because it just looks so nice. SheepGG made sure to include a good deal of functionality into the house, so you have something that looks marvelous but also performs.
19. Nether house
The Nether House by BlueBits is for slightly more experienced players. Of course, anyone can build it if they dedicate enough time, get strong enough to survive the Nether, and like the atmosphere that the house gives off once it's done.
But of course, who can say no to such a majestic house? It combines infernal with luxury and is something to show off. There is a decent bit of functionality, cementing this house's position among the best Minecraft house ideas.
20. Skull mountain base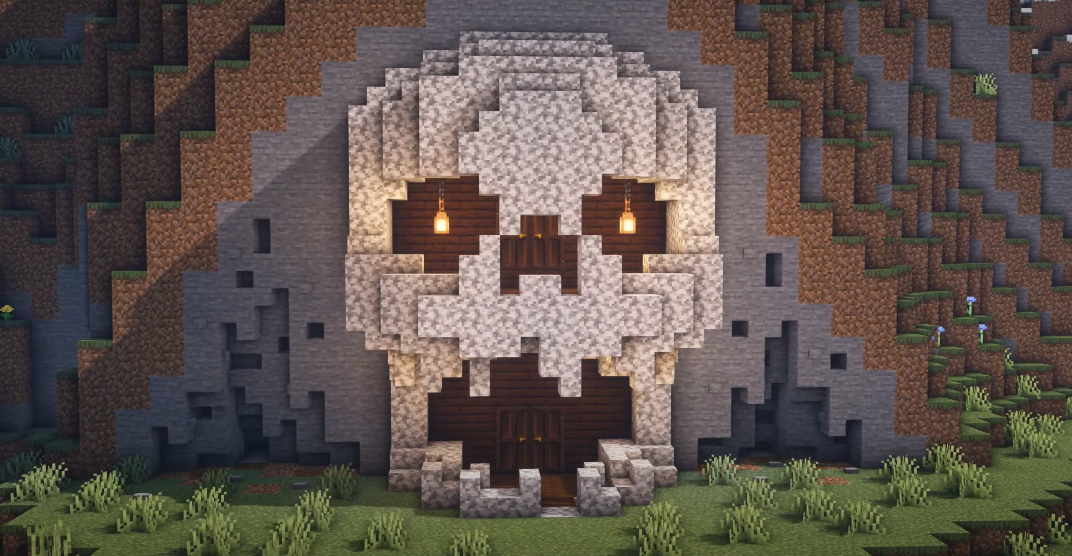 The creativity that flows through this wall is breathtaking. Behold the skull mountain base by Ayvocado. It's beautiful and creepy.
Outside of its looks is a fully operative base. Inside the mountain, you can find a library, a Nether portal, and even an aquarium. All of your needs have been taken care of by Ayvocado in yet another masterpiece.
That's all for our Minecraft house ideas. We know that you're probably a beginner if you're here and that some of these projects might seem daunting, but we are sure that you can build any of these as long as you put your mind to it. If you're ever looking for a break from Minecraft, consider checking out some of the best mobile games, best tank games, and best free PC games.