Whenever you're building something in Minecraft, you should aim to be as creative as possible because the whole world is in your hands. Players have come up with millions of different construction ideas over the years, all of which are unique and fascinating.
The specific build idea we'll be talking about today is best Minecraft treehouses. There are some biomes in Minecraft that have some gigantic trees with just enough space to build a house or two. Plus, they look awesome! Because of this, we have prepared a list of the best and most creative Minecraft treehouses you can build in your world!
Building stuff in Minecraft is always fun, so we recommend you check out some other builds so you can have some variety in your world. To this end, you can take a look at the best Minecraft house ideas. If you like the technical side of Minecraft, you can also check out the best Minecraft Redstone ideas!
1. Sleek treehouse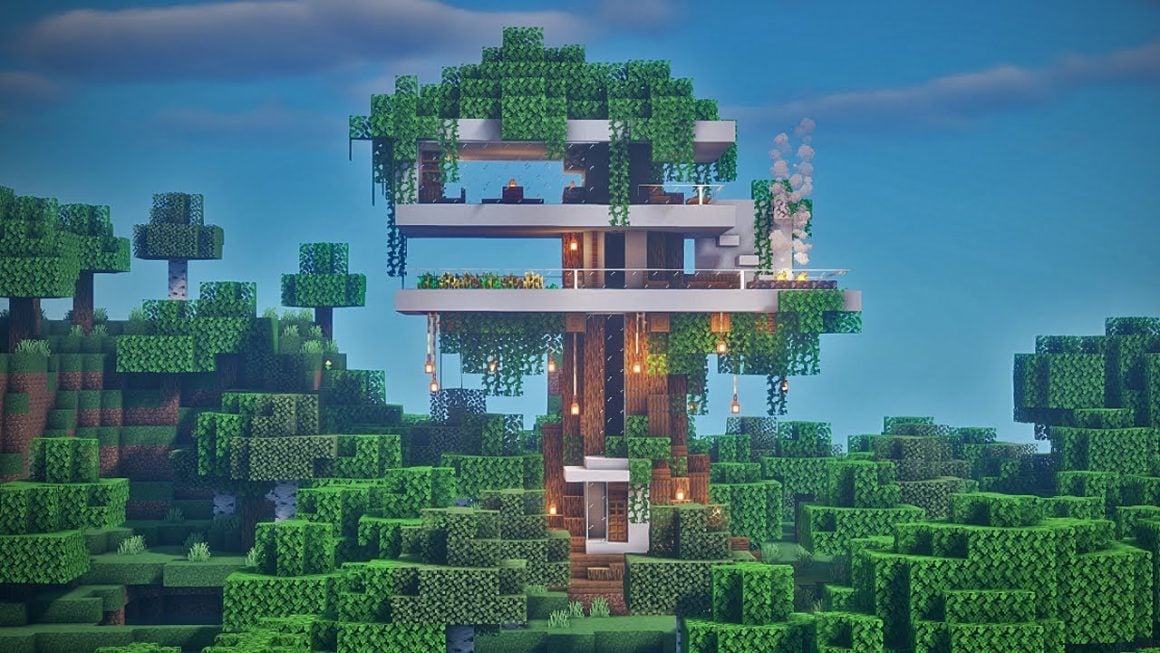 The first Minecraft treehouse idea we have is a modern, sleek design that really stands out among the tops of the trees. This is because it has bold geometric features that are stark white, so you can see it from anywhere. There is a decent amount of convenience since you can add or subtract floors from it according to your tastes. It's a wonderful house to look at and it has all of the features you could want in a place to live.
2. Co-op treehouse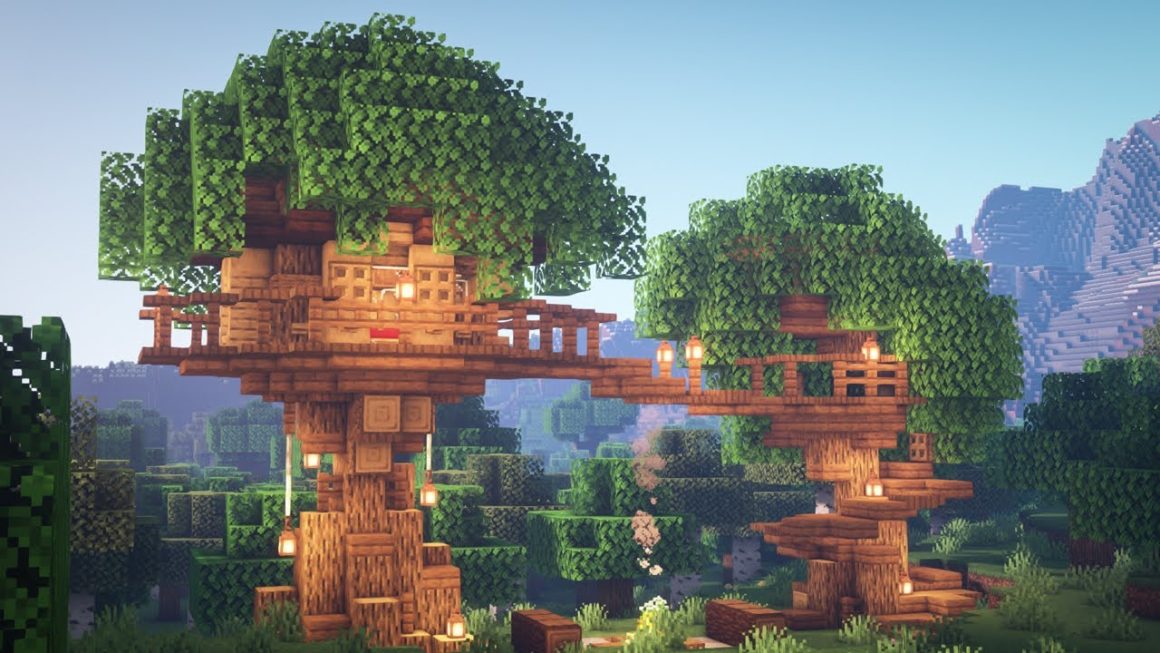 Now we have a treehouse that is focused either on playing with a friend in your world or doubling your space, so it's quite roomy. It has a very circular and very exaggerated tree design, and the canopies are connected with a simple wooden bridge so it's quite easy to access any part of the trees you want. The general idea of this treehouse is for it to look as natural as possible, and it accomplishes that perfectly.
3. Nether treehouse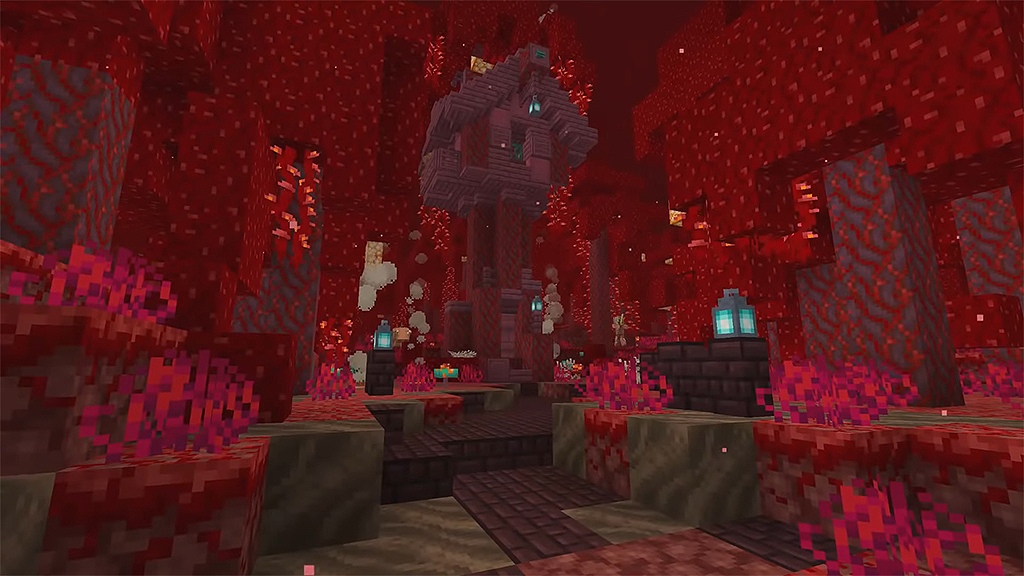 When you think of the Nether, your first thought is probably not going to be to build a treehouse, but the Nether does actually have trees in it, so building a treehouse is more than possible. The wood you can find in the Nether looks awesome and building it is fun as hell (no pun intended). This design in particular is relatively simple so you can get it done in no time and it has enough space for everything you need.
4. Jungle treehouse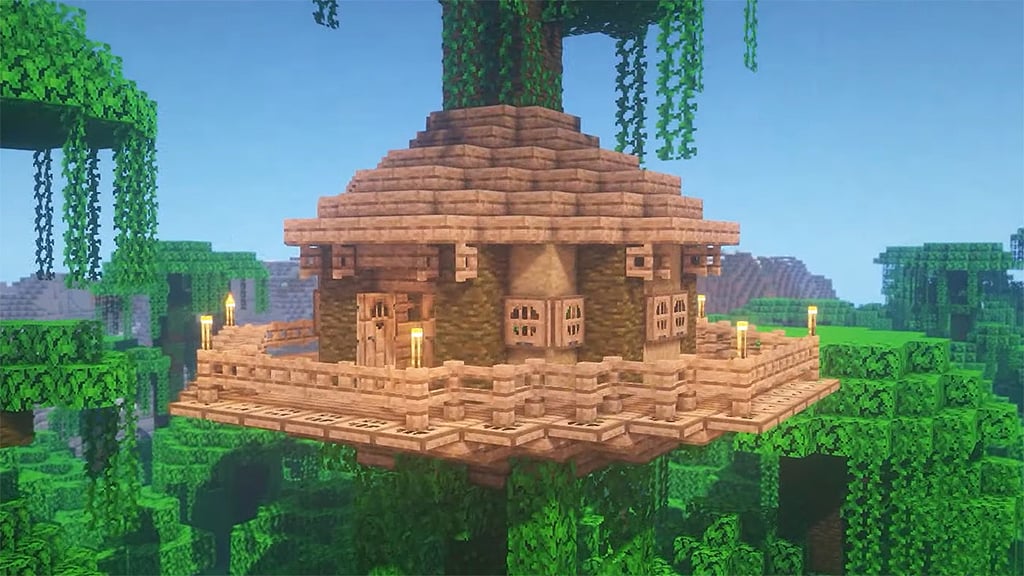 Jungles are the perfect biome for building treehouses because of the abundance of large trees, nice atmosphere, and excellent building conditions. This design takes advantage of everything jungles offer to the fullest. It is a single room with a circular patio that goes around the tree to give you a 360-degree view over your area in the jungle. It's even simple to build as well, so it's beginner-friendly.
5. Creative treehouse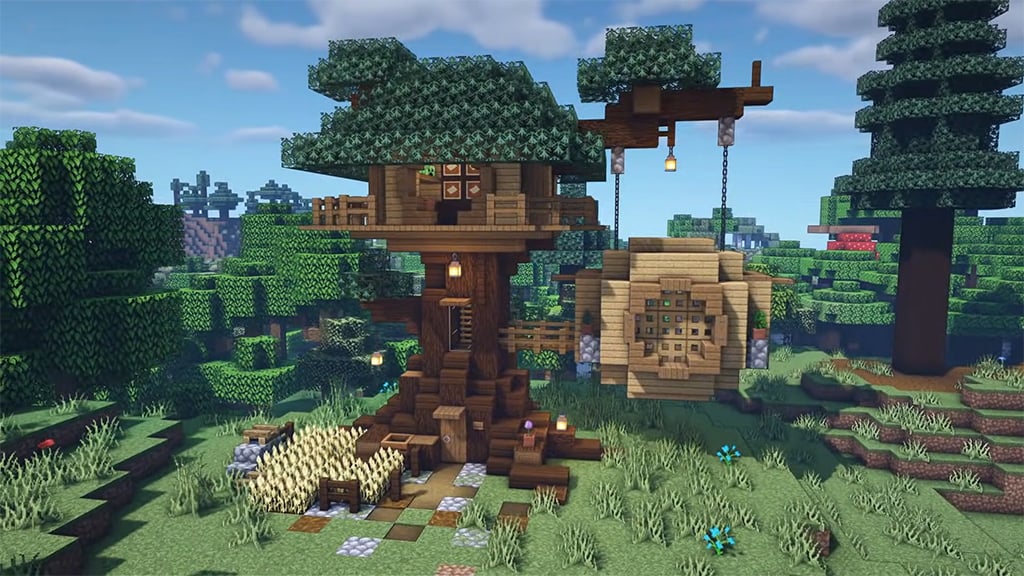 When it comes to Minecraft treehouses, you are most likely going to need a house that's good for helping you get through the survival mode of the game. This one achieves that by keeping a simple design that can be done in a day or two, and it has many of the essentials you need for survival. The aesthetics are on point as well, with a hanging room that is sectioned off to the side of the house. You can customize it as much as you want.
6. Secluded treehouse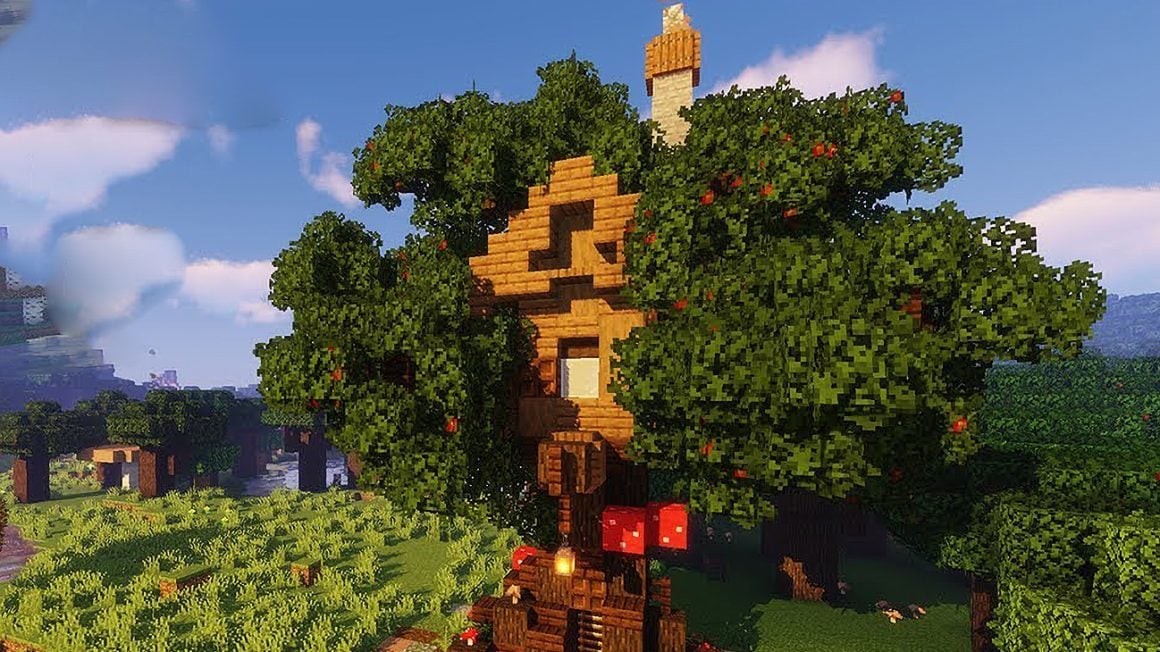 Moving on, we have a Minecraft treehouse whose general structure is hidden among the leaves so it's harder to notice among other trees, but it adds so much depth to the feeling of living in a hidden base. There is not a direct path to the entrance, so you have some freedom to include some secret entrance or something similar, depending on what you need. Check this design out if you're a beginner and want a mind-blowing house!
7. Treehouse/farm combo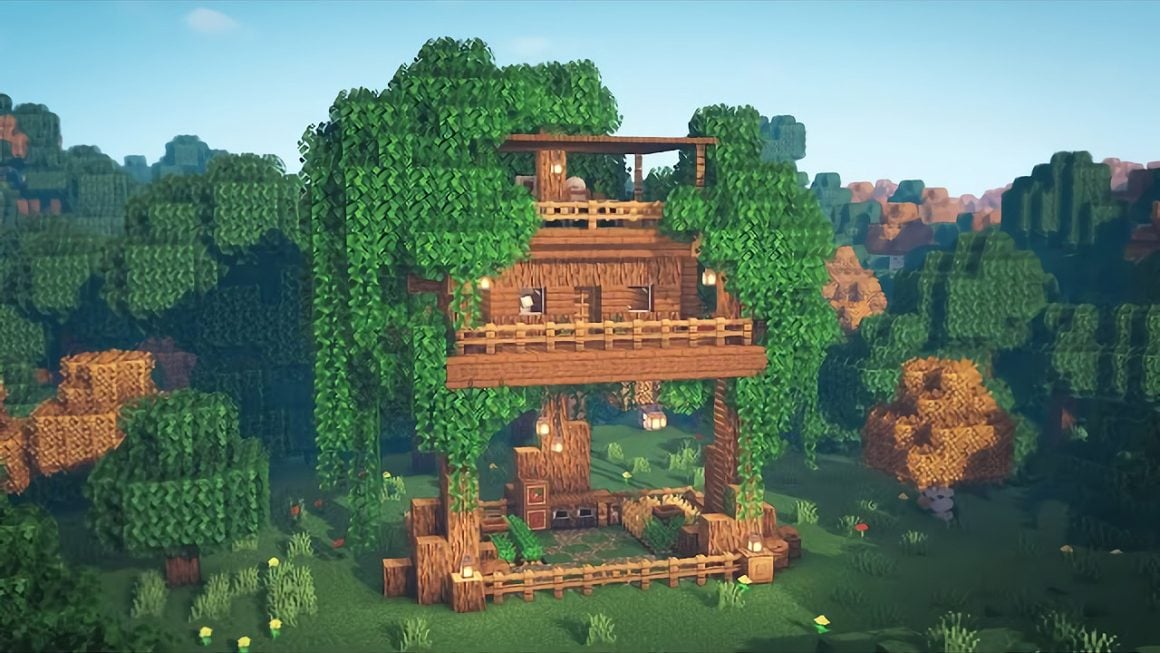 With this treehouse design, the main idea is commodity and practicality. You have a large overhanging room to store all of your valuables that is well-decorated and secluded among some foliage, and you have a relatively small plot of land to farm crops underneath the room, ideal for growing your own food!
8. Large treehouse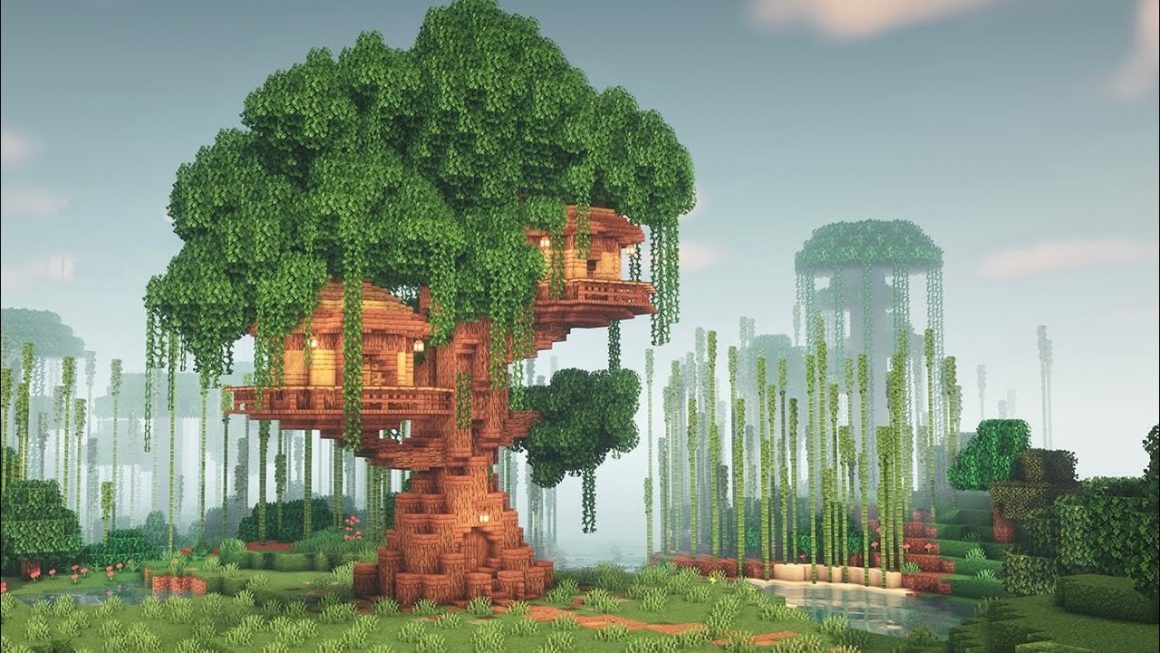 From the simple designs, we move on to an absolutely massive treehouse that is not to be hidden behind a giant mound of foliage. Frankly, it's pretty much impossible to hide it, so you might as well flaunt it and present it in all its glory. It can be used for multiplayer, or alone if you want a lot more storage space, as well as space for specialty rooms like enchantment rooms and whatnot.
9. Futuristic treehouse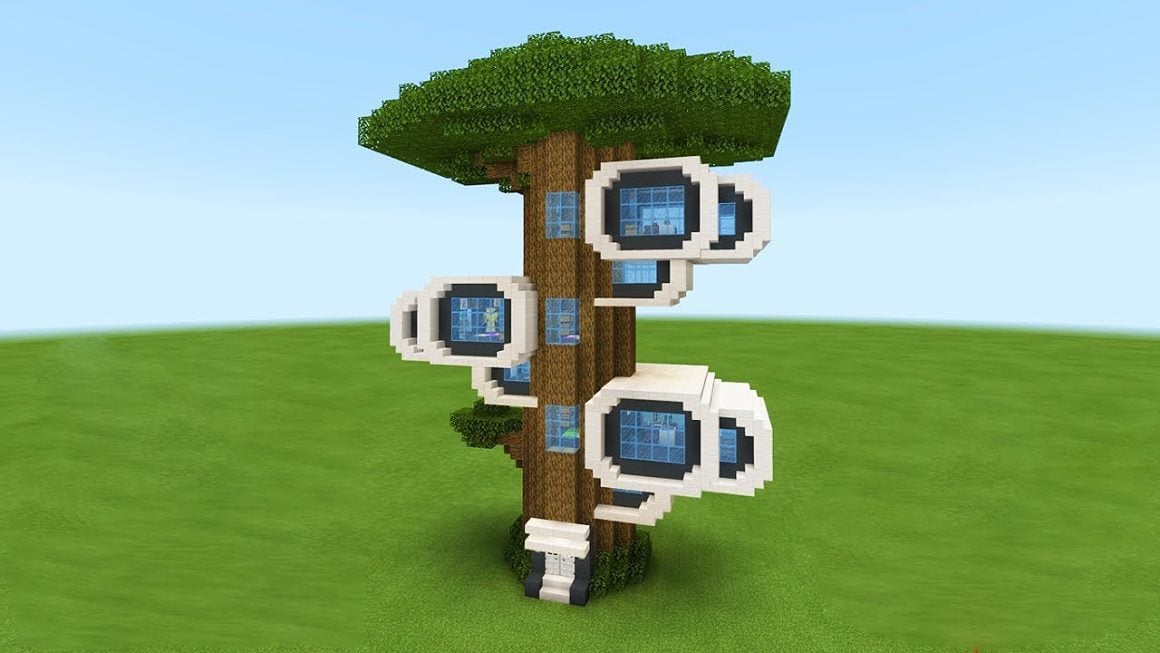 Keeping with the idea of unique and out-of-the-box designs, we now have a futuristic house that is represented by contrasting colors and imposing architecture that pulls your attention to it, ideal for players that love building and everything to do with it. The design of this treehouse is a giant tree that has a few white rooms added to its trunk. These rooms are great for storage or as simple living rooms, it all depends on you.
10. Canopy house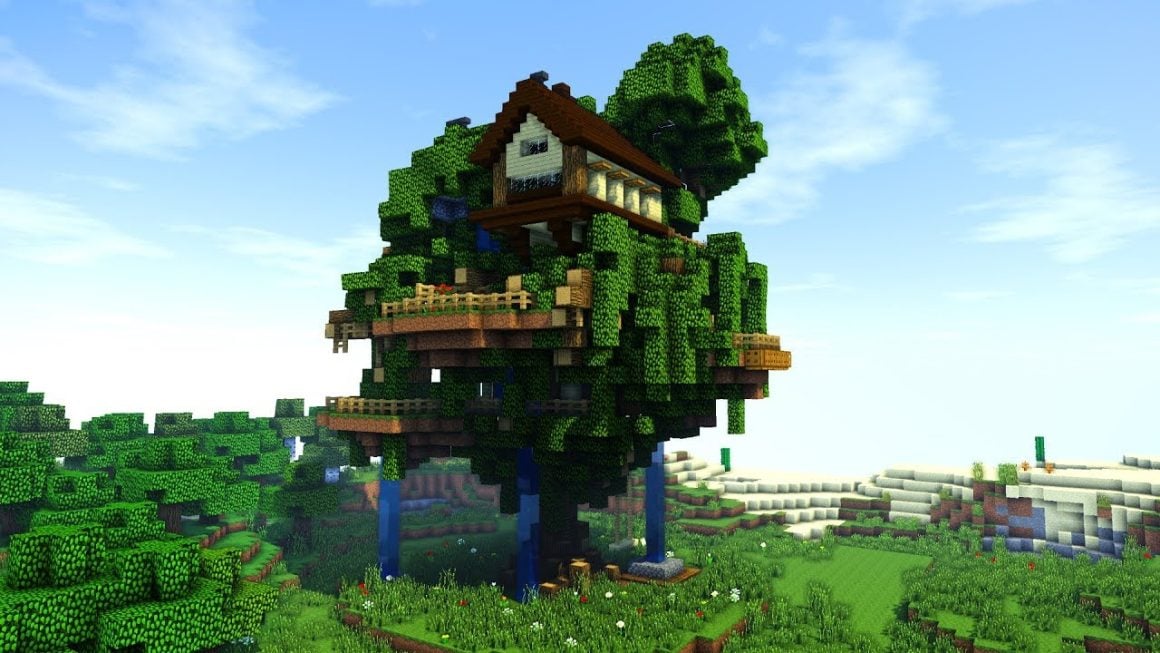 So far, we've mentioned houses that are built into these giant trees and act as extensions of them. Now, we have a house that is literally just a house on top of a tree canopy. When it comes to the design, the original builder has made a completely acceptable house, but you can customize it as you want because it doesn't have to fit into the structure of the tree exactly, it's literally just a "tree house". Designs like these are fascinating and fun to build, as well as fun to look at!
And that's it! We sincerely hope that one of these treehouse designs appeals to you and that you can make it your own. All of them are really fun to build and the feeling of satisfaction you get after completing them is fantastic! If you happen to be looking for some new games to play, we suggest taking a look at the best naval games, best cross-platform games, and the best WW2 games!