Purchases through our links may earn us a commission.
The B450 chipset from AMD debuted in July of 2018. The chipset is a direct successor to the B350. The B450 is an AM4-based chipset with broad CPU support. At its release, it was a mid-range chipset with a well-rounded suite of features. If you're interested in finding more about B450-based motherboards, or motherboards in general, visit our motherboard section, which contains lots of handy buying guides and educational articles.
Some of the most significant improvements the B450 brought over its predecessor, the B350, include lower chipset TDP (down from 6.8 W to 4.8 W), support for faster DDR4 memory, higher quality VRMs optimized for overclocking, as well as the StoreMI technology that promised faster HDD performance. In reality, StoreMI came and went without making a mark but, back in the day, it had a lot of promise. Finally, the B450 uses a PCIe 3.0 x4 CPU-chipset link. Below you'll find the complete B450 motherboard list followed by detailed B450 specs, CPU compatibility, and comparisons with other Ryzen chipsets.
B450 motherboard list
B450 chipset features
AM4 Socket
The B450 is yet another chipset to use the now legendary AM4 socket. AMD introduced this socket even before Ryzen CPUs landed. At the moment of writing, AM4 has been in use for more than five years. The B450 chipset included support for the first and second generation of Ryzen CPUs back when it arrived. Over time, the chipset greatly expanded its CPU support thanks to AMD and users who didn't hesitate to express their disagreement with AMD's attempts to follow Intel's tracks and limit CPU support on their chipsets.
B450 hardware specs
The arrival of the B450 coincided with the release of the Ryzen 2000 (Zen+) lineup. Zen + CPU lineup has brought Ryzen into the mainstream market. It also significantly increased the architecture's popularity. Probably the biggest practical improvement was much better memory stability and support for faster DDR4 memory. This had more to do with Zen+ CPUs and improvements to their memory controller and BIOS updates than the chipset itself, but still, Ryzen CPUs finally started to work fine with high-speed memory on the B450 and X470 chipsets. You could finally run DDR4 3200 or 3600 in combination with the B450 and Ryzen 2000 CPU without issues, which was a major improvement over the first-gen Ryzen CPUs and the B350 chipset.
Other significant improvements include lower TDP than the B350, with the B450 chipset TDP going from 6.8 W to 4.8 W. The B450 also came with StoreMI technology. Touted as a breakthrough tech that should allow HDDs to work as fast as SSDs by fusing the two, it crashed and burned before reaching a wider audience. StoreMI had potential, but the rise of cheap SSDs prevented it from becoming more popular. Better overclock support was another feature that didn't tie to the chipset directly. Instead, it resulted from Zen + improvements – like the introduction of Precision Boost Overdrive – along with higher quality VRMs found on the B450 and X470 motherboards. Finally, the B450 chipset brought the option to run bootable NVMe SSDs in RAID configuration.
When it comes to PCIe and USB support, the B450 is very similar to the B350. The chipset features six PCIe 2.0 lanes, support for up to two USB 3.2 10Gbps, two USB 5Gbps, and six USB 2.0 ports. It also includes two SATA III ports, and one SATA Express port. SATA Express is yet another standard that disappeared in the meantime, mainly because the M.2 standard proved to be a much better solution for faster storage drives. The rest of the PCIe lanes are delivered by the CPU, with AMD limiting the chipset to PCIe 3.0. This means that, when running Ryzen 3000 & 5000 CPUs on supported B450 motherboards, their PCIe 4.0 lanes will be limited to PCIe 3.0.
Other notable features found on the B450 chipset include support for only one GPU (not important these days anyway) and stuff like allowing users to disable specific USB ports from the motherboard's BIOS.
CPU compatibility
When it first arrived, the B450 only supported the first and second generation of Ryzen CPUs (Ryzen 1000 and 2000). Once Zen 2 (Ryzen 3000) processors came, AMD decided to allow motherboard manufacturers to release BIOS updates that introduced support for the new CPUs. Then, when rumors about Zen 3 CPUs started to circle the web, AMD announced that the B450 and X470 chipsets won't support the upcoming CPUs. After the community backlash, AMD decided to reverse the course and allow motherboard manufacturers to, yet again, ship BIOS updates for B450 and X470 boards containing Zen 3 support. The catch is that, by installing the Zen 3-enabling BIOS, users would limit the board only to Zen 3 CPUs without an option to revert to an older BIOS.
Nowadays, finding which CPUs a specific B450 motherboard supports can be complicated. Chances are, if it's a new B450 board (they're still a solid choice for budget-minded PC builders), it comes with a BIOS that allows it to run Zen, Zen +, and Zen 2 CPUs. Also, if you're in the market for a B450 board to pair with a Zen 3 CPU (even though a B550 board is a better choice for Zen 3 CPUs), you should check whether the model you're after has an option for BIOS update that will allow it to run Zen 3 CPUs. If we're talking about a used board well, make sure to ask the seller about the CPU compatibility before making the purchase. In theory, the B450 chipset can support every Ryzen generation. But, in practice, the situation's quite complicated.
B450 vs B350 vs A520 vs B550 vs X570
Now, let's compare the B450 chipset with the current Ryzen chipsets and its predecessor, the B350. We won't compare the B450 to X470 even though they're from the same generation because the X470 is pretty much a dead platform. On the other side, the B350 is a direct predecessor even though it's not in use anymore, which is reason enough to compare the two.
B450 vs B350
First of all, B350 motherboards aren't a great choice these days for new PC builds. B450 boards or, even better, B550 or X570, are much better for gaming and productivity rigs, even budget ones. Budget B550 and X570 boards are great even for mid-range builds; B550 and X570 boards are perfect for high-end Ryzen rigs, while you should use B450 or A520 motherboards only for entry-level builds. A B350 motherboard should be fine for budget server, NAS, or HTPC builds if you find a dirt-cheap B350 + Ryzen CPU combo. Even then, a cheap used B450 should be a better choice.
The B450 is very similar to the B350 when it comes to basic specs. They both have six PCIe 2.0 lanes on the chipset, and they both support up to two USB 3.2 10Gbps, two USB 3.2 5Gbps, and six USB 2.0 ports. Both the B350 and B450 come with overclocking support, and they both can run only one GPU. You can find two SATA III ports on both chipsets, as well as one SATA Express port. As for the PCIe support from the CPU, both chipsets are limited to PCIe 3.0. This doesn't hurt the B350 since it doesn't support CPUs that come with PCIe 4.0 lanes anyway.
Finally, while the B450 can support every Ryzen CPU released to date, depending on the specific motherboard model and BIOS version used, B350 boards support Zen and Zen + (Ryzen 1000 and 2000) processors. Some B350 motherboards have an option for a BIOS update that brings Zen 2 support (Ryzen 3000).
B450 vs A520
The A520 chipset is the current AM4 entry-level chipset that supports Ryzen 3000 and 5000 series CPUs. The A520 features six PCIe 3.0 lanes, one USB 3.2 10Gbps, two USB 3.2 5Gbps, and six USB 2.0 ports. It also comes with two SATA III ports and is limited to PCIe 3.0 lanes from the CPU. The chipset-CPU link is PCIe 3.0 x4. Both chipsets allow just one GPU. All in all, quite similar to the B450. On the flip side, the A520 doesn't support overclocking.
Now, B450 boards come with better VRMs, higher quality audio, a wider assortment of extra features, and more M.2 slots. If you're planning to build a budget PC, the A520 can be a solid choice if you're on a tight budget where every dollar saved is valuable. However, you could probably find a used B450 for cheap that probably trumps any A520 when it comes to features. If you plan on assembling a mid-range PC, skip both of these and go get a B550 motherboard instead.
B450 vs B550
The B550 chipset is a direct successor to the B450. The newer chipset comes with a nice assortment of upgrades, the most important one being PCIe 4.0 support. This is vital for everyone wanting to equip their PC with PCIe 4.0 NVMe storage. Faster performance of the PCIe NVMe drives doesn't matter much in most use scenarios, but certain users, such as content creators, can greatly benefit from faster storage. Moving on, the B550 comes with ten PCIe 3.0 in total compared to six PCIe 2.0 lanes found on the B450. The B550 also comes with two extra SATA III ports. When it comes to USB support, the two chipsets are the same – two USB 3.2 10Gbps, two USB 3.2 5Gbps, and six USB 2.0 ports. Both chipsets come with overclocking support.
Nowadays, the B550 is the best choice for the majority of Ryzen builds. Low-end boards are very cheap, while you also have access to excellent mid-range and high-end boards that come with beefy VRMs, lots of extra features, and high-def audio sections. With that said, a B450 motherboard could be an excellent solution for HTPCs, budget gaming builds based on a cheap Ryzen 3000 or 2000 CPU, and affordable server & NAS setups.
B450 vs X570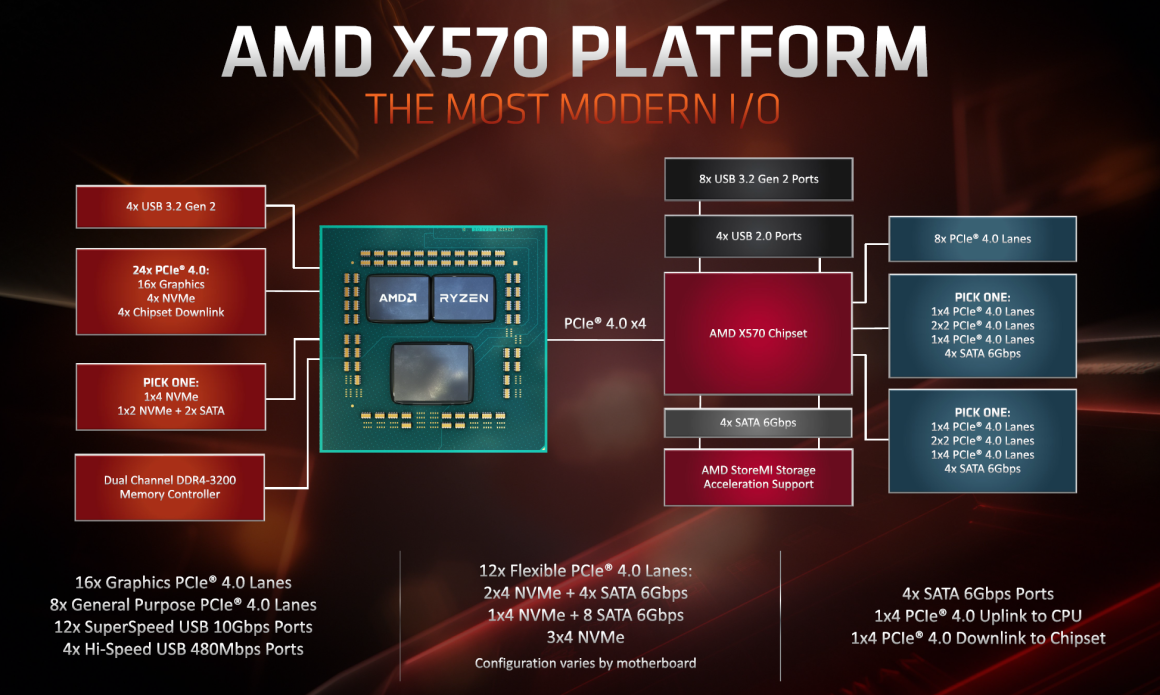 The X570 is the current high-end solution for Ryzen processors, and it's packed. First of all, it includes sixteen PCIe 4.0 lanes on top of the PCIe 4.0 lanes provided by the CPU. Next, the chipset supports up to eight USB 3.2 10Gbps and four USB 2.0 ports. SATA III support is okay, with four SATA III ports in total. That said, the chipset-provided PCIe lanes can be configured into SATA III ports.
Finally, the CPU-chipset link found on the X570 is PCIe 4.0 x4. The B450 is on an entirely different level from the X570, and, realistically, it can't compete with the high-end solution. Of course, if you're into budget builds, the situation's a bit different. But even then, a cheap B550 board would present a better choice than a B450 solution.
Overall, the X570 is a pretty good choice for high-end Ryzen builds since it can support more than one PCIe 4.0 NVMe SSD. There's a number of high-quality X570 boards, and you don't need an expensive one to get a well-rounded board with high-end VRM and lots of extra features. There are also lots of excellent budget X570 boards around if you don't feel like spending much on the motherboard but still need multiple PCIe 4.0 storage devices. However, if you don't need multiple PCIe 4.0 SSDs, feel free to get a B550 board.
Explaining DIMM slots, M.2 slots, form factor, etc.
Form factor – There are three main motherboard form factors: ATX, Micro ATX (mATX), and Mini-ITX. They differ in dimensions, with the Mini-ITX being the most compact of the three, followed by mATX and ATX as the largest form factor. Check out our motherboard form factor guide if you want to learn more.
DIMM Slots – Dual in-line memory module, or DIMM, is used for housing RAM sticks. These slots are commonly known as memory slots or RAM slots. Consumer motherboards top out at four DIMM slots, while HEDT (high-end desktop) boards can have eight in total. Server motherboards can come with even more DIMM slots.
M.2 Slots – M.2 standard was developed with many different uses in mind. These days, however, M.2 slots are mainly used for storage devices and wireless adapters. And when we talk about the number of M.2 slots, we only count slots capable of hosting storage devices (SSDs).
SATA III Ports – SATA (serial advanced technology attachment) is an ancient but still quite popular interface made for storage devices. These days SATA III (the latest revision of the standard) is used by HDDs and SATA-based SSDs. SATA SSDs are a good bit slower than NVMe SSDs. Note that M.2 SSDs with SATA speeds aren't the same as SATA SSDs. The first group uses the M.2 form factor, while the second group uses the 2.5" form factor.
Purchases through our links may earn us a commission.