We all know Coin Master is stacks of fun, but all that grinding for coins eventually gets tiresome. Some players will be tempted to seek out cheats and hacks to accelerate their progress. These tools claim to give you the ability to power through the game, whether by giving you loads of free coins or by letting you skip past stages.
One of the most sought-after tools is the "Coin Master generator," a type of hack that promises to give you free spins and coins. It's an alluring proposition, for sure—who wouldn't want to have enough coins to unlock everything in Coin Master?—but the hard truth is that the vast majority of these tools don't actually work as advertised. In some cases, they're actually malware that can steal your personal information and break your phone!
Become a true Coin Master with these awesome guides like Coin Master free spins, Coin Master free cards, Coin Master villages, Coin Master events.
Soliciting personal and private information
Cheats, hacks, and generators are modifications to the game that are explicitly not allowed by Moon Active. Because of this, you won't find these kinds of tools on any official platforms. You might even have to visit a sketchy forum or two to get your hands on them, some of which will ask for your personal data.
Never give away your personal and private information, especially to some unknown community board or website you've never heard of. Immediately block anyone who asks for your password or the answer to your security question. This is secret information that nobody else should have.
Some of these scam websites will ask you to log in with your Facebook account. Then, they'll spam you with social media messages, claiming to be a member of the Moon Active security team. Block and report these accounts immediately. While it's possible that they're merely trying to steal your Coin Master account, in worst case scenarios, they're phishing for credit card info and other valuable data.
They make you fill out endless surveys
Many scammers simply use the promise of free spins and coins to pull you in, then put you in an infinite loop of survey-filling torture. No, there's no Coin Master generator at the end of the rainbow. They've tricked you into filling out their web surveys so that they can make money from every one of their victims.
If you find yourself filling out forms just to get to a file, we've got bad news for you: the file you're looking for isn't here. No legitimate software repository will force you to fill out a survey before allowing you to download their files. There isn't much you can do here but make a note of the website's name and steer clear of it in the future.
Keep an eye out for shady YouTube videos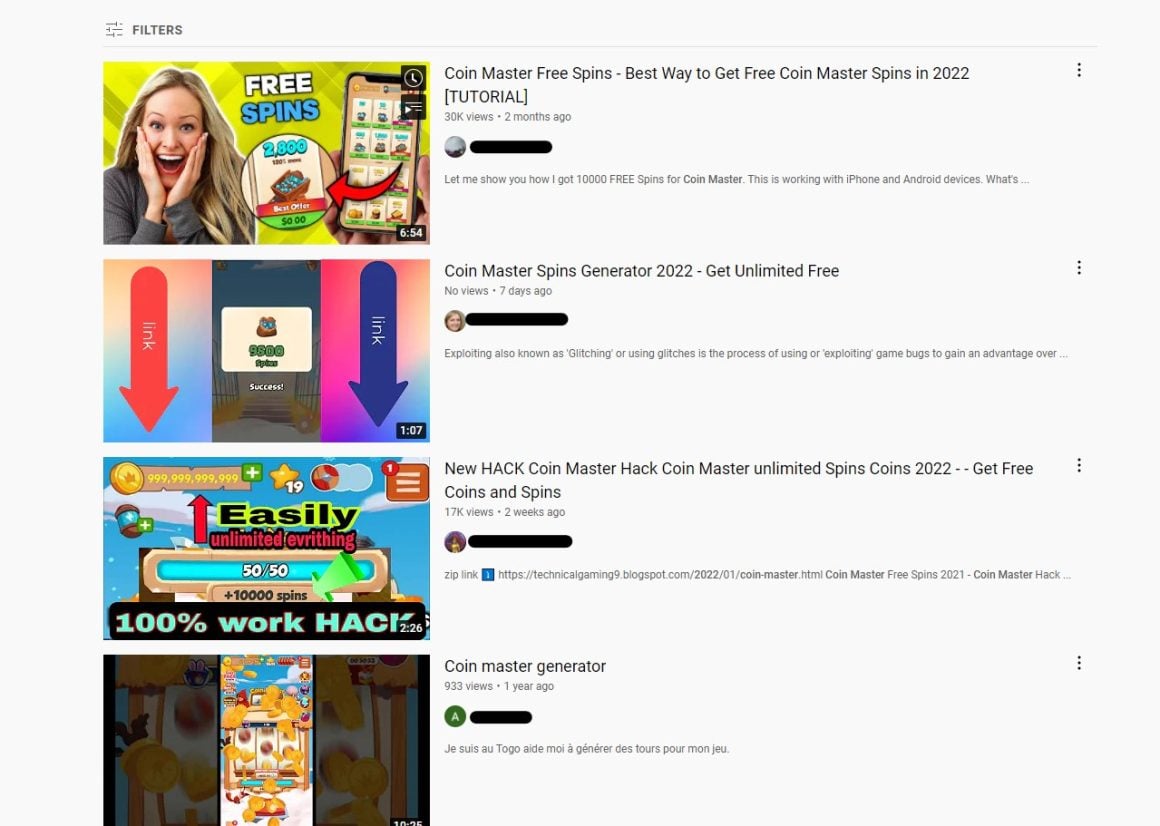 There are countless videos on YouTube about Coin Master hacks, but nearly all of them lead to the same sketchy websites or annoying surveys. Don't get us wrong, hacks for Coin Master definitely do exist, and that's what they're showing you in their videos. But that's not what you'll find in the link in the description.
Often, the links in the description of these YouTube videos contain viruses, trojans, and other malware that can break your computer and ruin your phone.
The developers creating the Coin Master generator (and other similar hacks) don't actually want people to use their software. They just want to draw your interest so that they can find a way to make money off of you, whether that means having you fill out forms or stealing your private data.
Require you to root or jailbreak your phone
We already talked about how scammers use these tools to trick people into filling out surveys and giving them their private information. In such cases, there was never a cheat or hack in the first place—once they have what they want from you, you walk away empty-handed feeling like a fool. But if you can believe it, there's another type of Coin Master generator scam that's even more malevolent: the ones that ask you to root or jailbreak your phone.
Sometimes you'll find a link to a hack that actually downloads. It doesn't ask you to fill out a survey or give away private data first, it's an easy click and download process. However, once you install the app in the link, you'll find it asks for root permission to your device.
Rooting (or jailbreaking if you're on an Apple device) grants your apps access to the low-level administrative permissions typically hidden away from general users. By rooting your phone and giving unknown apps these permissions, you're giving them access to do whatever they want with your phone. That means these "hacks" can access your camera, steal your contacts, and many more nefarious things.
To make matters even worse, many times these "hacks" and "generators" with root access don't even work! They won't provide you the spins and coins you wanted—that's what you risked all of this for in the first place!
These telltale signs apply to all unofficial software on the internet, not just Coin Master, so remember this list when you're browsing for game tools. We never want to see another player fall victim to malware or identity theft.
Hungry for new games to bite into? Check out this list of the best multiplayer games to play in 2023.
What is a Coin Master generator?
A Coin Master generator is a tool that claims to generate unlimited coins or spins for the Coin Master game.
Do Coin Master generators actually work?
No, Coin Master generators do not actually work. They are often scams that do not generate coins or spins for the game and can even harm your device or steal your personal information.
Is it safe to use a Coin Master generator?
No, it is not safe to use a Coin Master generator. Such generators can harm your device, steal your personal information, or get your Coin Master account banned.
Why do people use Coin Master generators?
People use Coin Master generators because they want to get unlimited coins or spins for the game, but they do not realize that the generators do not actually work and can be harmful.
Can I get banned for using a Coin Master generator?
Yes, you can get banned for using a Coin Master generator. The game has strict terms of service that prohibit the use of any tools or hacks that alter the game's normal functioning, and using a generator is a violation of these terms.
Is there a legitimate way to get more coins or spins in Coin Master?
Yes, there are legitimate ways to get more coins or spins in Coin Master, such as by playing the game and completing events or opening chests.